Thermaltake View 31 Tempered Glass Edition Case
Author:

Dennis Garcia
Published:
Friday, July 28, 2017

System Install and Conclusion
In an attempt to provide a bit of scale we installed the Gigabyte Aorus Z270X Gaming 5 to check motherboard alignment and see what kind of cooling clearances we have to work with. The Gigabyte Aorus Z270X Gaming 5 installed you'll see that there is plenty of room surrounding the motherboard to route cables and a good amount of space at the top of the case for additional fans and radiator.
Unfortunately there is no included PSU cover in the View 31 which can be viewed as a good thing and a bad thing. On the good side you'll get to show off your excellent choice in power supplies including the suggested Thermaltake Smart Pro RGB 850w modular PSU. This unit comes with a Thermaltake RGB Riing fan installed giving you another chance to add more bling to your builds.
Of course on the bad side if you are without an RGB enabled power supply you cannot hide your shame and will have to spend extra time making sure your cable management is double plus good as there is absolutely no way to hide the wires.
Conclusion
In my case reviews I like to look at a particular chassis from the view of a casemodder. This was an easy thing to do when cases actually required modification. However, these days just about any case you buy will come with a variety of things that every enthusiast requires.
Good Cooling
Expandability
Personalization Options
Great Outward Style
Cooling was always a major factor to consider and with the Thermaltake View 31 TG we have plenty of fan locations and fan options however we are missing one HUGE component, Airflow. The front panel of the View 31 is a translucent plastic panel that comes with one curved edge and one vented edge. The vented edge is very restrictive meaning that it will vent some air but won't provide much without seriously opening it up.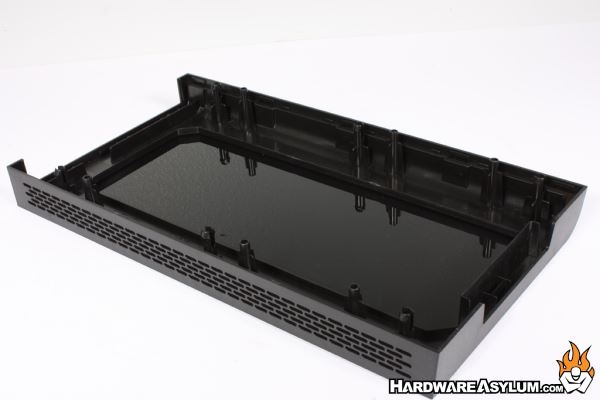 Along the same lines when looking for a case with good cooling you want a system that will prevent the intake fans from pulling in exhaust air from inside the case. With the View 31 we not only have a restrictive bezel intake but a huge hole above the intake fans where the external 5.25" drive bay used to be. With the drive bay gone that gives intake air a path of least resistance which effectively short circuits the cooling system.
When it comes to personalization options the View 31 is extremely good. The tempered glass side panels allow unique views into the case and will allow you to show off your DIY watercooling loops using the latest TT Premium watercooling gear. There isn't much to improve because the options are endless.
Expandability and outward style are often things you don't associate together but, with the Thermaltake View 31 they seem to fit quite well. For instance the vertical video card mount allows you to show off your video card while still allowing you to use additional cards on your motherboard. Sadly you won't be able to run SLI or Crossfire but being able to show off your custom video card waterblock is priceless at the local LANs.
In terms of other modifications I'm always a fan of custom paint and the View 31 is ripe with color opportunities even if they are just stickers applied to the glass panels. Of course cooling needs to be addressed and short of swapping to a Core X31 front panel I would recommend blocking off the left over 5.25" drive bay on the inside of the case and opening up the side vent to allow more air into the system. Of course if you cannot get a X31 front panel you could always pop out the clear plastic part of the front panel and replace it with some modders mesh. Given how easy it is to scratch the front panel plastic this is a good option all around.
Good Things
Wide Chassis Design
Tempered Glass Side Panels
Dual Purpose Drive Trays
Watercooling Options
Many Radiator Locations
Clear Plastic Bezel
Can Support RGB LEDs
Bad Things
Clear plastic bezel easy to scratch
Poor front panel venting
Too many holes at the front of the chassis
No PSU cover