Cooler Master GS750 Desktop Hub and Headphone Stand
Author:

Dennis Garcia
Published:
Wednesday, July 17, 2019

Introduction
As computer users there is no getting around the "stuff" that collects on your desk. Many users pride themselves on having a clean battle station with perfect wires and plenty of desk showing. This is great however, it can be a limiting factor when it comes to actually using your PC. Things like headphones, charging cables, web cams and speakers all take up space and when you have a multitude of different devices you might also have a USB hub to help keep things organized.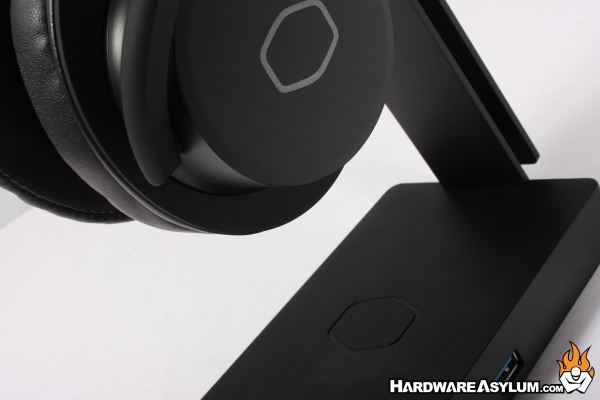 In this review I'll be showing you the new Cooler Master Master Accessory GS750. This is a device that I first saw during CES 2019 and again later during Computex 2019. The GS750 is a multipurpose device that is primarily identified as a headphone stand and measures 11 inches tall. The height will accommodate every headset I am aware of and is quite a bit taller than the stand we 3D printed here in the lab.
The top is protected by a rubber foot and shaped to prevent your headset from easily sliding off. Along the back is a decorative bar made from the same gauge material and welded directly to the main stand.
The base of the Cooler Master GS750 is very unique in that it contains a powered USB 3.0 hub with two ports, one on each side. At the back you'll see the input connector which will connect the GS750 to your PC. Power comes from an included power brick and will be a major part going forward with the other features.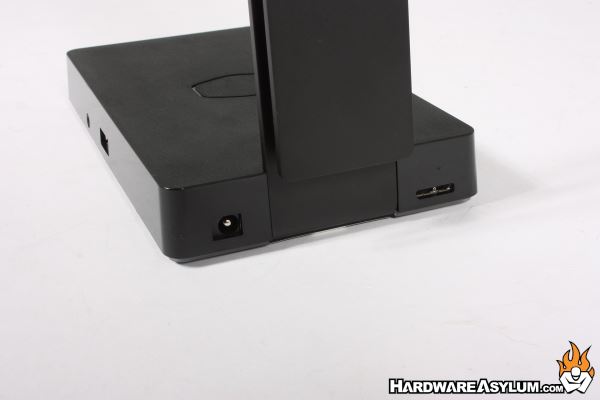 For those of you using a mobile device with QI charging capability the base of the GS750 will quickly become your friend. Simply place the device over the Cooler Master logo and watch it come to life. The output is certified up to 10W and is smart to prevent overheating, overcharging and will stop charging when not in use or when a non-QI enabled device is placed there.
As a third feature of the GS750 the base also contains a full 7.1 surround sound processor allowing you to plug in any headset and enjoy full surround sound from the stand. Audio is via the USB codec and virtually identical to the controller that comes with the Cooler Master MH752. You can check out our review of this headset following the link above.
The final feature worth mentioning is the integrated RGB lights in the base of the GS750. As with any properly designed RGB enabled device the lights are software controlled but do come pre-programmed with a default rotation. I also noticed that when you are using the QI charging dock the lights change to green giving you a nice visual indication that something else is active.
Conclusion
I find myself to be a little eclectic and am very intrigued when it comes to combining common technologies into a single device. However, these days you have to be a little careful because some combos really have no reason being together. For instance RGB lighting in a gaming chair, a great idea but, I find it to be rather dumb and impractical. When technologies are combined they should be complementary and done to achieve a common goal and feel that the GS750 has really done an excellent job at pulling those things together.
The device starts as a common accessory that every gamer needs, a headphone stand. Without one you are leaving your headphones on a desk or strectching them over a chair both of which apply pressure to the earcups which can cause them to be damaged. A good headphone stand will prevent this or, at least allow you to neatly store them away. After the headphone stand why not give you easy access to USB ports? Many of you may say "why do I need more USB ports on my desk?" where others see it as a great way to maximize the cable length of their headset. Of course if your headset is only stereo the GS750 can also help you get the most from your games by expanding that audio signal into full 7.1 surround sound using the internal audio jack.
Finally the QI charging and RGB lights really finish off the device nicely and fully combine three features that would otherwise create excess clutter and cable mess.