EVGA Z590 Dark Motherboard Review
EVGA Z590 Dark Motherboard Review
Author:

Dennis Garcia
Published:
Friday, July 30, 2021

Conclusion
In this review we looked at the EVGA Z590 Dark, this is a late entry into the Z590 Rocket Lake product offering and by the time this review went live it had been over four months since the processor was released. Sadly, the entire Rocket Lake launch was a little underwhelming between shortages and delays it was difficult to get Z590 parts and if you look under the sheets we basically have a Comet Lake re-release to give Intel a PCI Express 4.0 part in the marketplace.
However, there are a number of improvements including a much stronger memory controller offering 3200Mhz memory support at default, 20 PCI Express 4.0 lanes at the CPU instead of the traditional 16 and the launch of the EVGA Z590 Dark.
As with most modern motherboards the EVGA Z590 Dark doesn't come with a plethora of additional accessories. You'll get the minimal components to make the motherboard work and a number of high-end onboard features like USB Type-C, onboard video and WiFi. Combined, this feels of a minimal product offering when compared to some of the other high-end motherboards on the market.
The Z590 Dark features the same rotated motherboard design from the previous two editions and despite a few visual changes the overall layout remains the same. You are down a full-length PCI Express slot but gain a third M.2 running at PCI Express Gen 4.0. This new slot is using bandwidth from the CPU and will likely not work without a Rocket Lake CPU.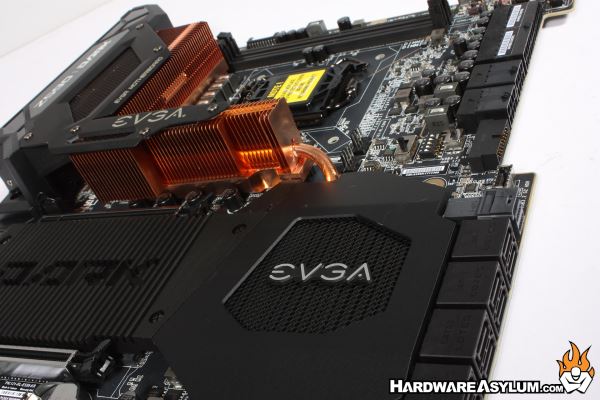 The UEFI layout is quite good and displays exactly what you need to see. This is an important feature given that many manufacturers tend to overcomplicate the interface by trying to show "everything" or do the opposite and hide everything within a complex list of menus. I find the EVGA UEFI to be very straight forward showing you the current state of your system while giving you appropriate menus to make adjustments. My only real complaint is that I find myself attempting to exit a menu only to have the UEFI asking me to save and exit. I find this code for "Hey idiot, you are at the top, pay attention"
System setup went extremely well and every component installed as you would expect. Gone are the extremely stiff memory sockets and I even like how EVGA setup the M.2 drives. You'll have some good fun getting the suckers installed but, luckly you'll only need to do it once. When it comes to overclocking I found the Z590 Dark to be very responsive to manual adjustments, voltage was stable and the board reacted well to change. The auto overclocking features seem to have been improved and the auto voltage adjustments work. I did find the board to be voltage heavy and would set voltages higher than they needed to be. Manually overriding these solved the problem and makes me think that the voltage curve was tuned for LN2 and not so much Phase or High-End water.
As was mentioned in the Overclocking section I decided to hook the Dark up to my Single Stage Phase cooler and see what my Core i9 11900K could do. As with most extreme overclocking it took a while to get everything dialed in and determined that 5.37Ghz was the highest stable overclock I could get with this cooling method and processor. Unlike with previous overclocking attempts I found the Z590 Dark to respond well to the colder temperatures which allowed me to better tune voltages for stability on the SS Phase.
Much like with ambient cooling when you go subzero the voltage you select can have a profound impact on system stability. When you drive in too much voltage you generate excess heat, drop the voltage too low and you limit the operating temperature. Even with -36c phase temperature I found Cinebench R20 pushing the CPU well above 40c so it is best to use as little voltage as possible.
Some of what makes this motherboard great can be its biggest detractor. The most obvious is the size of the motherboard and at 11inches wide will require a pretty big case to install it correctly. The 90 degree power sockets will give you grief when using a "smaller" case so keep that in mind when planning your build. Of course, when this board is on the bench the cable orientation isn't a big deal and is actually quite nice.
Despite the detractors the Z490 Dark does come with some great options that show that the board is more than a weekend bencher. Onboard WiFi 6 allows you to go wireless without compromising your SLI or NVLink plan and for those looking to add some bling will be happy that EVGA has added onboard ARGB which can be controlled using the included software.
Good Things
Fresh New Layout
Oversized VRM Cooler
Unique Motherboard Shape
Black on Black on Gold Color Scheme
Excellent UEFI Menus
5333Mhz+ DDR4 Performance
Custom Audio System
Drivers on Flash Drive
ARGB Onboard
Bad Things
VRM is heavy!
Some 90-degree power connections are difficult to access in a case
Hardware Asylum Rating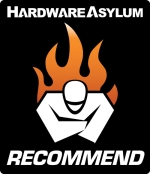 EVGA Z590 Dark Motherboard Review
Recommend
https://www.hardwareasylum.com