EVGA Z68 FTW Motherboard Review
EVGA Z68 FTW Motherboard Review
Author:

Dennis Garcia
Published:
Thursday, October 27, 2011

Board Layout and Features
EVGA motherboards follow a classic color scheme with a jet black PCB and red expansion slots. By far this is one of the most common color combinations which are largely dictated by the black PCB that so many builders are using.
Flipping the motherboard over we can see several interesting zones which correspond to the major chips found on the PCB. Every PCI Express slot is fully wired meaning that the full slot width is soldered to the PCB. As we will see later in this review that doesn't mean that each slot comes with full PCI Express lanes.

The PWM design features twelve power phases and is coupled with a high speed ML Cap to help stabilize power delivery across all of the power phases. If this single cap design looks familiar, it is. You can find similar designs on the Maximus IV Extreme and older P55 Classified and seem to work quite well.
Clean power starts at the source, and with the power demands of extreme overclocking, the more power you have available, the better off you will be. EVGA understands this and has offered an additional 8-pin 12v power connector to help with the extreme overclocking efforts.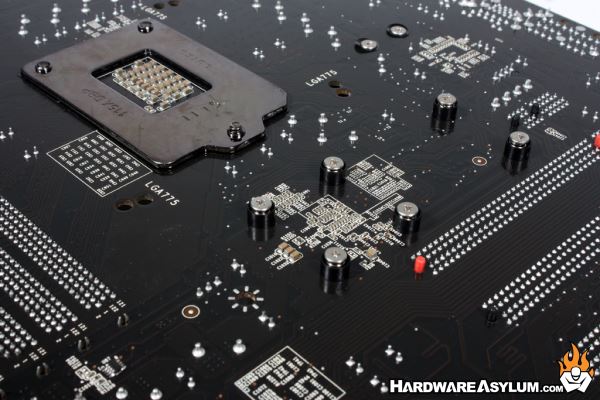 EVGA was nice enough to offer dual CPU mounting holes for both 1156 coolers and 775 socket mounting hardware. This is a very welcome feature considering that most of us still have a bunch of extremely good 775 coolers lying around.