Gigabyte Z170X UD5 Motherboard Review
Gigabyte Z170X UD5 Motherboard Review
Author:

Dennis Garcia
Published:
Friday, October 02, 2015

Special Features and Included Goodies
Onboard audio
The Gigabyte GA-Z170X UD5 is equipped with the exclusive AMP-UP Audio Technology powered by a Realtek ALC1150. With Gigabyte AMP-UP Audio, gamers and audiophiles are able to experience crisp, ultra realistic sound effects while gaming, and the richest possible sound experience.
Like on previous motherboards the onboard audio is constructed on an electrically separated section of the motherboard to reduce EMI and offer the best chance at good audio reproduction. The controller is also shielded in metal and somes with a built in amp to power your high-end headphones.
Dual M.2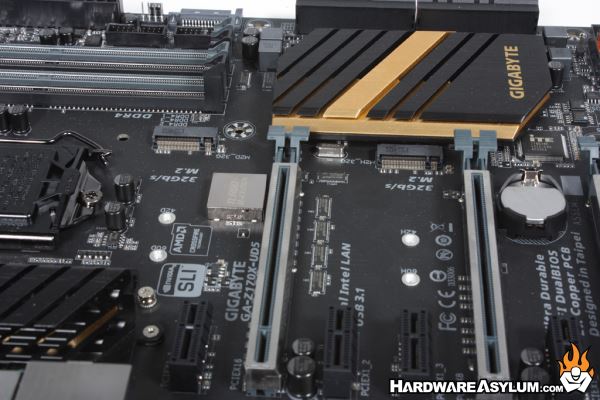 The Z170 chipset comes with 20 PCI Express 3.0 lanes which is more than you get with the Skylake processor. Unlike the CPU bandwidth the chipset PCIE is designed for connectivity and storage. As was mentioned before you get three SATA Express connections and two M.2 Socket 3 connections with 4x lanes of PCI Express each. Unlike on previous motherboards these don't appear to share bandwidth the SATA Express so let the storage wars begin.
Included Goodies
We have come to expect more goodies from our high-end motherboards. The extras help to justify the additional cost and sometimes help pad the parts bin for when you need replacement cables and video card bridges. Gigabyte has included everything you see below which includes four SATA6 cables (with locks), manuals, I/O shield, driver disk and SLI bridge for 2-way video card configurations.
Right now Gigabyte is running a special global promotion when you buy a new Gigabyte 100 series motherboard, like the Z170X UD5 featured in this review. All you need to do is register your motherboard and you are entered into a prize giveaway for Gigabyte gaming hardware, Heroes of the Storm Hero and Skin and even a free trip to BlizzCon.
The included flyer and door hanger is a reminder to enter the contest and you can learn more by visiting the Gigabyte promo page. http://event.gigabyte.com/heroes/