Asus Sabertooth P67 Motherboard Review
Asus Sabertooth P67 Motherboard Review
Author:

Dennis Garcia
Published:
Friday, April 06, 2012

Introduction
One of the biggest issues any system builder has to deal with is heat. Normally these can be addressed with good chassis cooling and aftermarket CPU coolers but what about your motherboard? Most enthusiast motherboards come with oversized heatsinks which generally look impressive and work to keep everything nice and cool, especially when you are overclocking. There is one problem though, the heatsinks that cool the chipsets and PWM are generally buried under massive video cards and often bombarded with CPU heat or completely bypassed depending on your heatsink configuration. So how do you ensure your motherboard components are properly cooled?, with thermal armor of course.

Asus introduced the concept of a TUF (The Ultimate Force) motherboard to address a market that demanded higher quality components that have passed rigorous stress tests covering extreme heat, cold and thermal shock to ensure the utmost in reliability.

In this review we will be looking at the Asus Sabertooth P8P67 motherboard featuring Military class TUF components on board, Thermal Radar, Thermal Armor and one of the longest warranty periods for any motherboard on the market of 5 years.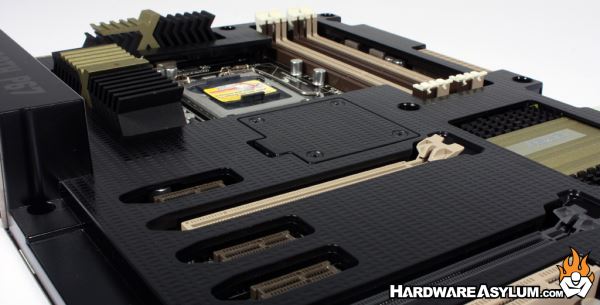 One of the first things you will notice with the Sabertooth P67 is the large shield that covers the entire motherboard. This is what Asus calls Thermal Armor and is designed to protect motherboard components from external heat sources and allow the surface components to be cooled with a number of independent methods.