DeepCool PQ1000M 1000w Modular Power Supply Review
DeepCool PQ1000M 1000w Modular Power Supply Review
Author:

Dennis Garcia
Published:
Tuesday, March 15, 2022

Power Connections
I have already mentioned how the DeepCool PQ1000M was a fully modular power supply and it comes with enough cables to populate every available plug on the PSU. Most users who purchase modular power supplies do so to help with cable management. Additionally, it is rather unlikely that you'll use "every" cable so why not reduce the chassis clutter in the process.
This particular PSU doesn't come with a storage bag for unused cables so you'll need to decide where to store the extras. If you are the type who keeps your component boxes then you have this covered otherwise you might need to get a little creative.
Cables
Inside the storage bag you'll find a main 24pin ATX cable that has a connected, but detachable, +4pin. The side that connects to the PSU is split across two plugs.
You will find a total of two 12v CPU power cables and feature the popular 4+4 configuration for better compatibility. Neither of the plugs feature a lock which can make installing the plugs difficult in certain motherboard configurations.
I find it surprising that this 1000w PSU only comes with three 6+2 pin PCI Express power cables. Granted the days of SLI are over along with the need for multiple PCI-Express power options but including only three just seems odd.
Logical but, odd
The final cables are the standard SATA and Molex power connections. Each cable features four plugs per cable. You will get two full length cables for SATA power connections. A single full-length cable with Molex connections and a final full-length cable featuring two SATA and two Molex plugs.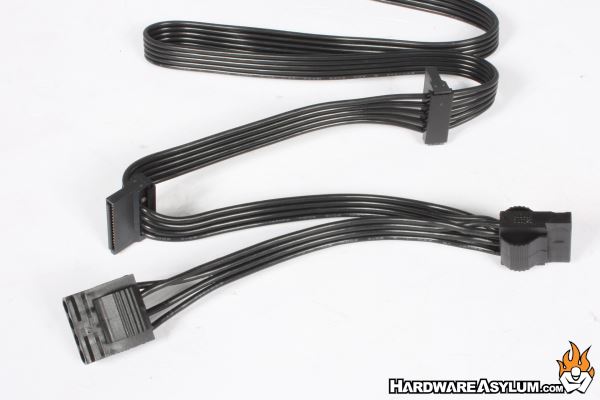 Given that we still have devices using Molex power connections I find the addition of a hybrid cable to be justified and welcome.
In terms of cable length, each are approximately,
Accessory: 2 feet – 9 inches
CPU Power: 2 feet
Main Power: 2 feet
PCI Express: 2 feet – 6 inches
The final accessory is very interesting. It is a test plug used to power on the PSU without it being connected to the motherboard. You could use something like this to fill a water-cooling loop or test that your drives and RGB lights are connected properly.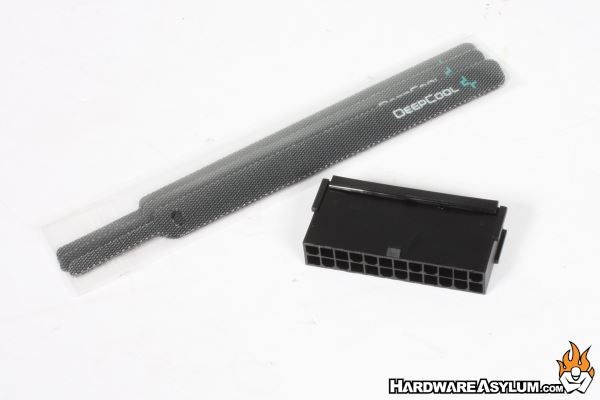 Or, if you have a Crypto farm running this little device can enable you to run the PSU without the need to daisy chaining it to the main system.