Gigabyte Ultra Durable 850W Power Supply Review
Gigabyte Ultra Durable 850W Power Supply Review
Author:

Dennis Garcia
Published:
Wednesday, April 27, 2022

Conclusion
As an overclocker and system builder I often recommend the highest capacity PSUs for builds, not because it is need but rather, I want to make sure that everything has adequate power. The 80Plus rating system applies mostly to power efficiency but can also give you a good indication that the rated power can be trusted. The Gigabyte UD850GM 850W is rated at 80Plus Gold making it a very attractive product to those who appreciate a quality PSU.
In looking at the label we can see that this is a single rail PSU with 70.8A available on the +12V rail and 20A available for both +3.3 and +5v. You can also see that this PSU features Active PFC (Power Factor Correction) which allows the PSU to adjust and compensate to achieve the most power efficiency possible.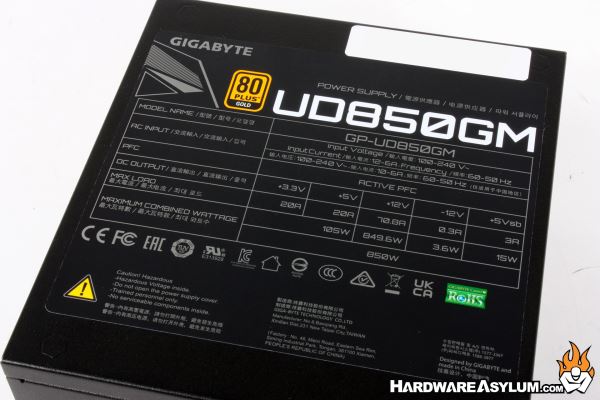 The design is quite nice and features very subtle graphics that make the PSU look to feature an embossed chassis but, is really flat and you won't find any RGB lights with this PSU. All of the cables are the flat ribbon variety and feature black connectors on both ends. I do like how the PSU features dual type power connections for both PCI Express and CPU power.
Both of these cables feature +12V and Ground connections with slightly different pin-out allowing the connection at the PSU to be universial. The power adjustment is made at the cable and is why you should only use the original cables with this PSU.
Cooling is handled by a 120mm fan which seems small for the overall design. The stamping on the metal indicates the size of the fan and helps to ensure that air is drawn through the PSU instead of loitering around. While the fan seems small, it does an excellent job at keeping the PSU cool with minimal noise.
Overall, I find the Gigabyte UD850GM 850W PSU to be quite nice. The overall black design helps ensure the PSU will blend into the background and the flat ribbon cables are easy to manage but, do require some extra effort to route correctly.
My final comment is on the plugs used on the UD850GM and might be some of the best I have ever seen. I rarely mention this but, when you have combined plugs featuring 4+4 or 6+2 the ability for these plugs to stay together is a crucial factor when it comes to assembling your build. I cannot tell you how many times I have gone to install an 8-pin CPU cable only to have half of the pins not engage. The plugs used on the UD850GM actually lock together and are honestly, how every cable like this should be.
Good Things
80Plus Gold Rating
850w Power Output
Fully Modular Design
120mm Cooling Fan
Flat Ribbon Cables
No RGB
Excellent Power Plug Design
Bad Things
Flat ribbon cables take longer to route
No RGB ?
Hardware Asylum Rating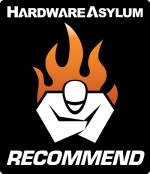 Gigabyte Ultra Durable 850W Power Supply Review
Recommend
https://www.hardwareasylum.com