Gigabyte XP1200M 80Plus Platinum Modular Power Supply Review
Gigabyte XP1200M 80Plus Platinum Modular Power Supply Review
Author:

Dennis Garcia
Published:
Tuesday, August 16, 2016

Introduction
When building up a gaming or enthusiast system your time and money is often concentrated on making sure you get the most powerful video card or the best processor you can afford. This tendency is natural since those are the things we perceive to dictate overall performance. The thing people forget is that performance cannot be realized unless you have enough power to drive everything, which means you need a quality PSU.

In this review we will be looking at the Gigabyte Xtreme Gaming XP1200M 1200W PSU. This is an 80+ Platinum certified PSU with a power efficiency of 92% under a typical load. Xtreme Gaming may describe the PSU however the 1200W power delivery and orange 140mm cooling fan are really what you should be paying attention to.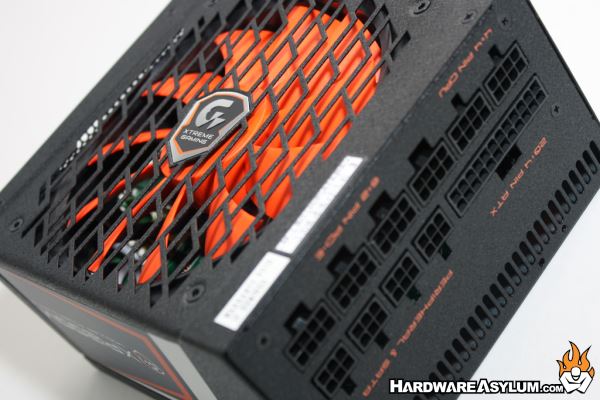 Special Features
Fully modular design
High quality 100% Japanese capacitors
140mm smart control fan
80 Plus Platinum certified
Single +12V rail
Supports NVIDIA SLI / AMD CROSSFIRE
Specifications
Model XP1200M
Type Intel Form Factor ATX 12V v2.31
PFC Active PFC (>0.9 typical)
Input Voltage 100-240 Vac (full range)
Output Capacity 1200W
Dimension D180 x W150 x H86mm
Fan Type 140mm Double ball bearing fan
Efficiency 92% at typical load
Protection OVP/OPP/SCP/UVP/OCP/OTP
Connectors
- ATX/MB 20+4 Pin x 1 : 700mm*1
- CPU/EPS 4+4 Pin x 2 : 800mm*1+ 650mm*1
- PCI-e 6+2 Pin x 6 : 650mm*2 + (650mm+100mm)*2
- SATA x 12 : (550mm+150mm+150mm+150mm)*3
- 4 Pin Peripheral x 8 : (550mm+150mm+150mm+150mm)*2
- 4 Pin Floppy x 2 : 100mm*2
Cable Type Black Flat Cables