SilverStone ST1200-PTS Strider Platinum 1200W Power Supply Review
SilverStone ST1200-PTS Strider Platinum 1200W Power Supply Review
Author:

Dennis Garcia
Published:
Wednesday, July 10, 2019

Introduction
When I watch people building up a gaming or enthusiast system I see most of their time and money is spent on making sure they get the most powerful video card and best processor. This is a natural tendency since those are the things we perceive to dictate overall performance. The thing is many people forget that performance cannot be realized unless you have enough power to drive everything, which means you also need a quality PSU.

In this review we will be looking at the SilverStone Strider Platinum 1200W PSU. We reviewed this PSU several years ago and in terms of features it isn't much different. 1200W 80 Plus Platinum rating with a fully modular cable system, magnetic fan filter with an iconic black paint job and expertly designed modular plugs indicating where every cable goes. So, what is the difference?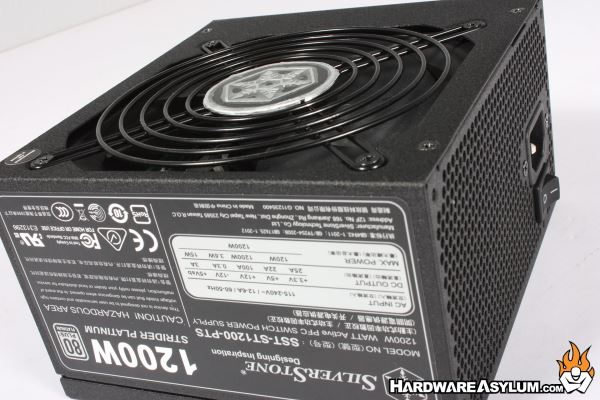 This version is smaller. MUCH smaller, in fact this is the first 1200w PSU to fit in a 150mm chassis which is a size normally reserved for smaller 500-750w PSUs and honestly a form factor that seemly had gotten lost when SLI and Crossfire hit the market.
Special Features
Compact design with a depth of 140mm for easy integration
High efficiency with 80 PLUS Platinum certification
100% modular cables
24/7 continuous power output with 40C operating temperature
Class-leading single +12V rail
Strict ±3% voltage regulation and low ripple & noise
Built-in silent & durable HYB fan
FF122 magnetized fan filter included
Specifications
Model No. SST-ST1200-PTS
Max. DC Output 1200W
Combined +12V 1200W / 100A
Input Voltage 115V~240V
PFC Active PFC.(PF>0.9 at Full Load)
Efficiency 89%~92% at 20%~100% loading
Protection OCP / OPP / OVP / OTP / UVP / SCP
Color Black (lead-free paint)
Cooling System Single 120mm HYB fan
Noise Level 18dBA minimum
Dimension 150 mm (W) x 86 mm (H) x 140 mm (D)
Weight 2 kg
Certification 80 PLUS Platinum