bequiet Straight Power 11 Gold PSU Review
bequiet Straight Power 11 Gold PSU Review
Author:

Dennis Garcia
Published:
Tuesday, February 11, 2020

Product Layout and Features
The Straight Power PSUs are designed to be a excellent middle of the road when it comes to power delivery and the balance between noise and efficiency. The base model starting Straight Power Gold starts at 450w and finishes out at 1000w. The PSUs in Gold all feature an 80plus Gold rating which has become a standard in certain US States to ensure that the power being consumed is used efficiently.
The primary cooling fan is 135mm bequiet unit using SilentWings 3 technology. The fan is a custom size for the bequiet PSUs though features all the same specs including a virtually inaudible 15.5dBA sound rating. The blades feature a high pressure design and super long lifespan of 300k hours.

The Straight Power 850w features a modular cable design that allows you to use only the cables required for your system. Unlike other modular PSUs you will find a different power plug for each cable type. PCI Express cables are located in the middle feature a unique 12pin plug design. Drives are located along the edge and use a flat 5pin plug design and the 12v CPU power are available as a dual P8 connector next to the main 24pin ATX cable block.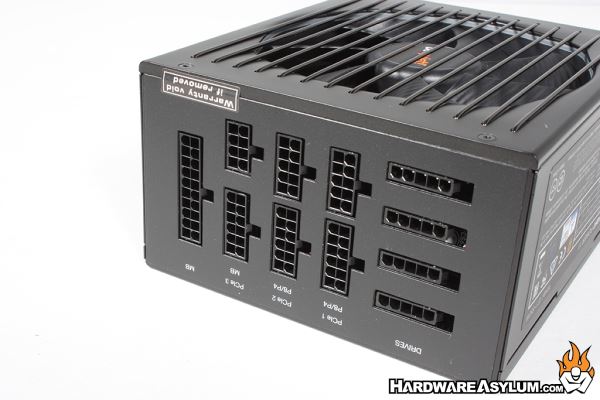 Unlike on other bequiet power supplies the Straight Power 11 doesn't feature the OC key or fan headers. Truth be told nobody needs fan control at the PSU level and only a select few hardware enthusiasts would benefit from the OC Key which binds the 12v rail into a single mono block.