bequiet Straight Power 11 Gold PSU Review
bequiet Straight Power 11 Gold PSU Review
Author:

Dennis Garcia
Published:
Tuesday, February 11, 2020

Conclusion
As overclockers we are often looking at the highest capacity PSUs for our builds and often forget that adequate power comes in many different forms and depending on your system configuration. I would always recommend a 1200w monster but that would be a waste of money for any mid-range single GPU gaming system. The Straight Power 11 850w sits right in the middle both in power capacity and product line. It is designed to be an efficient and quiet PSU and at 850w will support just about anything a modern gaming could throw at it. The PSU is fully modular meaning that it can be installed in any system with a minimal need for cable management and the 135mm Silent Wings 3 fan ensures that the PSU will remain cool and be extremely quiet, even under full load.
The bequiet Straight Power Gold is available in six power models starting at 450w and ending at a respectable 1000w. These are 80plus Gold rated PSUs which makes them 94% efficient at 80% loading and a great match for any gaming or performance PC. This is a multi 12v rail PSU with each rail delivering a slightly different amperage. Ideally the end user will not know the difference especially if they are only using a couple of the plugs.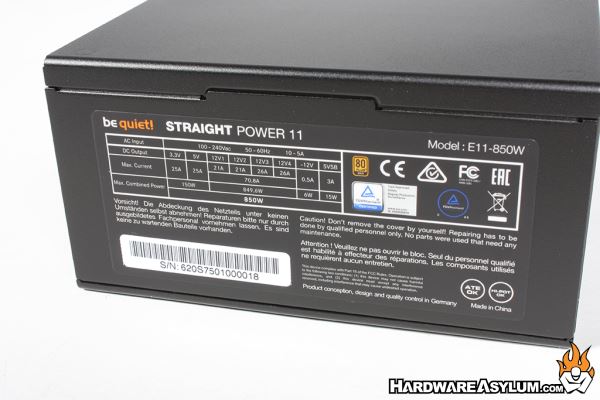 Overall we enjoyed the Straight Power 11 Gold 850w, the fully modular design is a nice change for systems builders allowing them to use only the cables they need and limit what needs to be creatively tucked away. I'm a fan of the cable bundles and like how each cable has a dedicated plug on the PSU. Personally I've never been a fan of the flat 5 pin plugs but in the context of the Straight Power 11 (and other bequiet PSUs) they are a nice way of keeping track of the different sets. The cables are not individually sleeved but come in bundles wrapped in a nylon mesh with zip ties at each end. Given that the PSU is fully modular replacing them is super easy and some you may be able to get from bequiet directly.
Good Things
Silent Operation
Modular Design
Variety of Power Options
80+ Gold
Sleeved Bundles
Bad Things
Multi-Rail design with no OC Key.