be quiet! Straight Power 11 Platinum PSU Review
be quiet! Straight Power 11 Platinum PSU Review
Author:

Dennis Garcia
Published:
Wednesday, April 01, 2020

Introduction
Let's face it, there are a lot of power supplies out there and picking one for your build is not an easy task. Sadly, PCPartsPicker and the quest to build something for the least amount of money often wins out in the end. I'm here to say that you should think differently when it comes to a power supply. Competition in the PSU market has changed quite a bit in recent years with power levels changing and companies underselling or over promising in an attempt to capture the majority of the market. What many users forget is that a PSU is more than how much power you can get for the least amount of money. You need to think about efficiency and consider that buying the right PSU now can allow you to build for the future.
In this review we will be looking at the bequiet Straight Power 11 Platinum 1000w power supply. As the name suggests this is an 1000W power supply that is designed to be virtually silent and highly configurable for a variety of applications. It is also born from the roots set by the Straight Power Gold I reviewed a couple months back. The outward design is similar, the cable pack is the same with the only major difference being what is most important.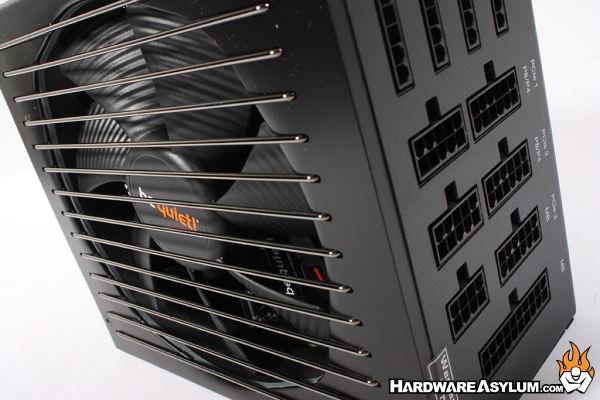 This PSU features an 80Plus Platinum rating, is fully modular and comes with one of the new 135mm Silent Wings 3 fans for virtually inaudible operation.
Specifications
Model Straight Power 11 | 1000W
Continuous power (W) 1000
Peak power (W) 1070
Form factor ATX 12V Version 2.51
Form factor EPS 12V Version 2.92
Modular Cable management Yes
Topology LLC + SR + DC/DC
Wire-free design (DC-side) Yes
Voltage (Vac) 100 - 240
Frequency (Hz) 50 - 60
Input current (A) 13 / 6.5
PFC active
Power factor at 100% load >0.99
Compliant to Intel C6/C7 Yes
Power consumption in standby (W) <0.16
Average life time (h / 25°C) 100.000
Operating temperature up to (°C) 40