be quiet! Straight Power 11 Platinum PSU Review
be quiet! Straight Power 11 Platinum PSU Review
Author:

Dennis Garcia
Published:
Wednesday, April 01, 2020

Power Connections
The cable bundle is typical for any power supply with each bundle nicely packed into a plastic braid. There are a few unique variations to the typical cable configuration that make the bequiet power supplies a little more desirable.

Let's start with the standard cables.

CPU power is available using two dedicated cables that fit into a 10-pin plug at the PSU. The cable converts into two types of CPU plug. The first is a standard 8-pin while the other splits to support dual 4-pin CPU connectors or a secondary 8-pin. This is rather unique in that you can choose what cable you need depending on your motherboard demands. Some boards require 16-pins of CPU power while others only need 4-pins. Despite what you need the Straight Power 11 has you covered.
The 1000w rating is perfect for multi GPU configurations and you will find three PCI Express power connections on the PSU that can deliver a total of six 8-pin PCI Express power connections. That is enough to support two EVGA Kingpin style video cards (using three PCI Express power plugs), three cards with dual power plugs or six low end cards if you are into that sort of thing.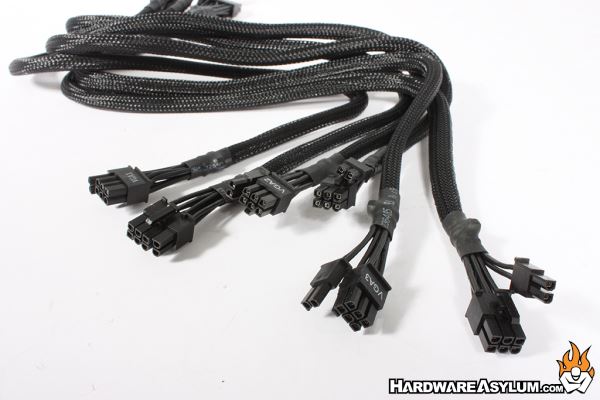 Each cable is a double so ideally you'll only need to run a single cable for most single GPU builds and each plug supports the 6+2 pin configuration.
Molex and SATA power leads come in a variety of flavors to match most any system build. Most systems will only require SATA power however given that the 4-pin MOLEX is still used there is a single cable included that features both SATA and MOLEX on the same string. Each cable is a little over 36 inches long, which is pretty standard for most PSUs on the market.