Thermaltake Toughpower Grand RGB 850W Power Supply Review
Thermaltake Toughpower Grand RGB 850W Power Supply Review
Author:

Dennis Garcia
Published:
Thursday, November 02, 2017

Conclusion
As overclockers we often look at the highest capacity PSUs for our systems, not because we need them but because we want to make sure everything has adequate power. The 80Plus rating system applies mostly to power efficiency but can also give you a good indication that the rated power can be trusted. The Thermaltake Toughpower Grand RGB 850W is rated at 80Plus Gold making it a very attractive product to those who appreciate a quality PSU.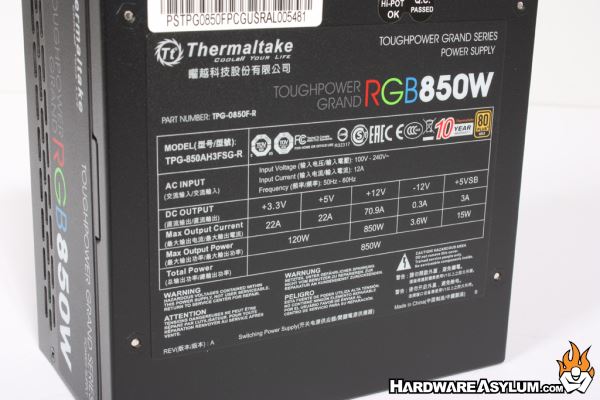 The Themeraltake Toughpower Series has always been an popular upper market line of power supplies and has now been enhanced with the magic of RGB lighting thanks so an included 140mm Riing fan. To change the LED color you'll need to press the RGB Lighting button on the back of the PSU and if you press it enough it will actually turn the light off completely. By default the cooling fan is disabled if the power supply is under less than 10% load. You can override this feature with a switch located on the back of the power supply which brings up an interesting feature of the Toughpower Grand RGB.
In the early days of computer building the power supply fan was a MAJOR source of cooling in your system. This was dictated by the lack of case cooling and one easy way to keep your chassis vented was to install a large dual fan power supply to suck air out of the case. As time progressed many case manufactures started flipping the power supply over allowing it to pull its own fresh air while larger case fans kept the main chassis cool.
So why bring this up?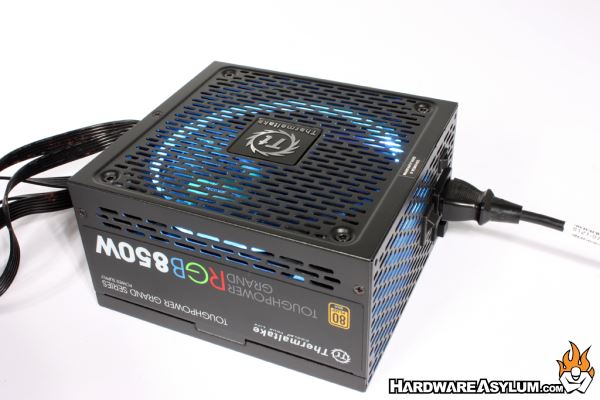 Given that the Thermaltake Toughpower Grand RGB 850w power supply features a RGB Riing fan you have a good reason to flip the PSU over again and start using it as an exhaust. As an added bonus you'll also get a sweet LED Riing fan to match the rest of your custom build.
Overall I am rather impressed with the Toughpower Grand RGB, the modular design is perfect at this price point and the RGB feature is great for those building a system using RGB LEDs. As with most Thermaltake cables they have embraced the modern computer and only split the plugs when needed. This means the main 24-pin power cable is a solid 24-pins and the 8-pin PCI Express cables offer a 6+2 option but also lock together allowing them to be easily installed. Speaking of cables all of them are of the flat ribbon variety which has been considered a good thing by many system builders. The idea is that since they are no longer round and sleeved they are easier to run and will take up less space.
Good Things
80Plus Gold Rating
2-way+ Video Card Support
1020w Peak Power Output
Fully Modular Design
140mm RGB Riing Fan
Flat Ribbon Cables
Storage Bag
Bad Things
Flat ribbon cables take longer to route
Riing fan is not software controlled