Thermaltake Toughpower Grand RGB 850W Power Supply Review
Thermaltake Toughpower Grand RGB 850W Power Supply Review
Author:

Dennis Garcia
Published:
Thursday, November 02, 2017

Power Connections
I have already mentioned how the Toughpower Grand RGB is a fully modular power supply and it comes with enough cables to populate every available plug. Most users who purchase modular power supplies do so to help with cable management since it is pretty rare that you'll use "every" cable which is why having a storage pouch is such an important accessory.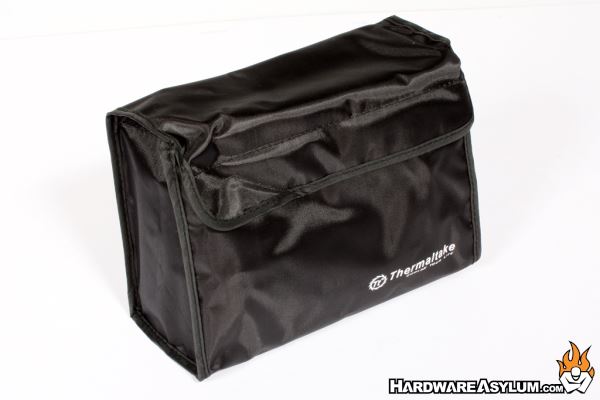 This heavy rubberized cloth bag comes with a Velcro flap and is actually what holds all of the cables when you first open the box.
Cables
Inside the storage bag you'll find a main 24pin ATX cable that is not broken up into the +4pin variety but does have a split set of cables where it connects to the PSU.
You will only get a single 12v CPU power cable but, it does come with two plugs. One is the popular 4+4 configuration for better compatibility while the other is a standard 8pin for use on every modern motherboard you can buy.
The Thermaltake Toughpower Grand RGB supports a variety of GPU configurations but is limited to only configurations using less than six 8pin PCI Express power connections. This actually includes a wide variety of configurations including 2-way SLI or Crossfire while still having a dedicated cable for power over PCI Express on the motherboard.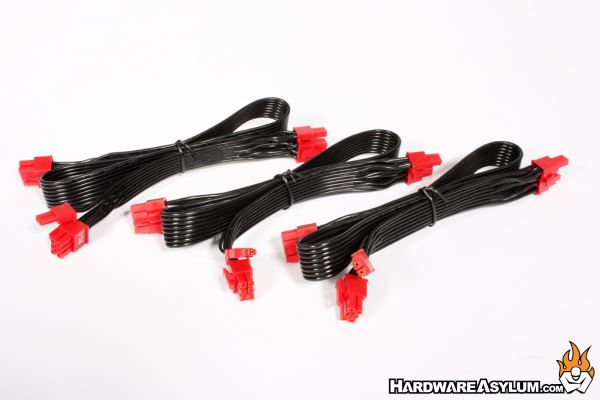 The final cables are the standard SATA and Molex power connections. Each cable features three plugs per cable. Each cable is dedicated to a certain connection type and you'll get three SATA cables and a single with Molex plugs and an adaptor for the smaller four pin plug used on floppy drives.