Thermaltake Toughpower GF1 1000W TT Premium Edition Power Supply Review
Thermaltake Toughpower GF1 1000W TT Premium Edition Power Supply Review
Author:

Darren McCain
Published:
Monday, August 9, 2021

Cables and Conclusion
The GF1 1000W is a fully modular power supply for complete customization and ease of installation. The included cables are the low-profile flat ribbon style that we have grown accustomed to finding with all modular Thermaltake units.
These cables are completely black and easy to route. We did find the connections to be a bit stiff and while the ribbon style cables appear to take up less space, they can be troublesome to place correctly without using cable ties.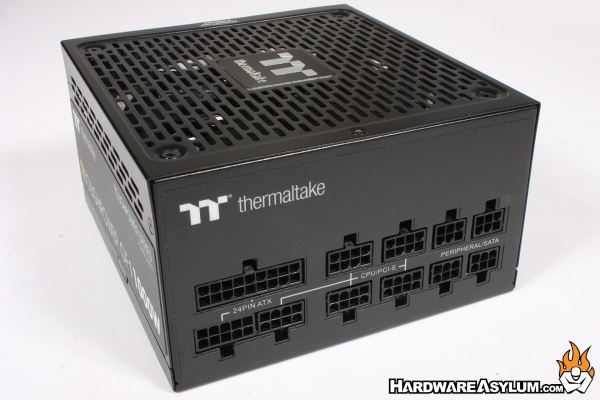 The cables are quite long at 650mm for the power connectors and 500mm for the component cables. Extra length is nice but, it can make it more difficult to route and hide the extra cable length and connectors in a windowed build. As expected from a Premium branded unit, there are more cables and connectors than most of us will ever need!
It should be noted that the main 24-pin power cable is broken up into 4 separate strands making one of the most difficult cables to route extremely easy to move around and secure into position.
You will get the following cables
1x 20+4-pin Main Power Cable
2x 8-pin (4+4) CPU Power Cables
3x Dual 6+2-pin PCI Express Power Cables
3x SATA Power Cables with 4 Plugs per cable
1x MOLEX Power Cable with 4 Plugs per cable
1x Floppy adapter
Conclusion
Thermaltake has done it again. The Thermaltake Tough Power GF1 1000W TT Premium Edition Power Supply provides a nicely upgraded take on the 1000W power supply that provides a confident foundation for most enthusiast builds. Adding the premium components and the smart fan options makes it an easy recommend.
Up to the latest generation of hardware we have recommended 800W plus power supplies for most builds. With the latest video cards and components Hardware Asylum is now recommending 1000 Watts or more for future proof builds. Efficient and powerful, that's something we can all get behind.
Good Things
80 PLUS Gold efficiency rating
Premium components
Fully modular design
Great Cable length
10 Year warranty
Bad Things
Flat ribbon cables take longer to route
Connectors can be a tight fit to lock
No RGB?