Audeze LCD-1 Open-Back Foldable Headphone Review
Author:

Darren McCain
Published:
Monday, August 17, 2020

Audeze LCD-1 Layout and Features
The LCD-1 headphones use an open back design which tends to provide more clarity and sound stage at the expense of letting some of the sound out. This can mean if you turn things up your neighbors will hear it as well so practice that social distancing!
It may be a bit difficult to see in pictures but the LCD-1 are much smaller than a typical planar design and makes them the smallest over ear headphones we have in the lab. The ear pads are genuine leather over a generous 3/4 inch (~23mm) of memory foam and have a nice swivel design. The ear cups are also slightly offset to fit your natural contours.
The result of a smaller ear cup is in a partial "on ear" feel with enough space to ensure the driver is away from the ear surface. The comfort level is high enough that I don't really notice once I get the music going unless they shift on my head. Some measuring and web searching led me to an interior dimension of about 65mm x 38.5mm and the outer dimension at about 94mm x 76.5mm.
A two meter audio cable is included with standard 3.5mm ends. The quality of the cable is high with machined aluminum covers, gold plated ends and a solid black fabric protective weave. An adapter is included for devices that use a traditional 6.35mm connector and everything fits nicely in the included portable hard case.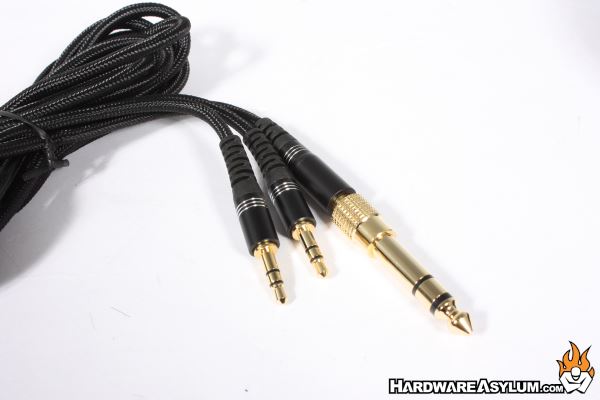 I love that the cable is detachable and that the ends are completely reversible. This takes the most common failure point with headphones and turns it into easily replaceable part. And given Audeze aftermarket support today, it probably won't be long before fancy upgraded cables will be offered from the usual suspects!