Cyber Acoustics USB Speaker Bar CA-2890BT Review
Author:

Darren McCain
Published:
Wednesday, November 9, 2022

Introduction
Thanks to my new work from home status, I am now spending a great deal of my time in conference calls through one app or another. Using headphones works fine but I found myself looking for something that would give my laptop a more professional conference call experience, without breaking the bank!
The new USB Speaker Bar from Cyber Acoustics looks like it could be just the thing to get me out of those pesky headphones. Let's take a look!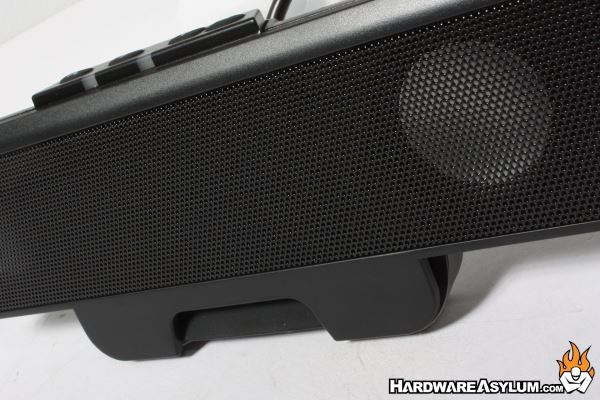 The Cyber Acoustics USB Speaker Bar or CA-2890BT is a 2W peak sound bar making it the smallest model currently offered. The size is a bit deceptive in pictures. The CA-2890 measures in at about 69.85 x 209.55 x 31.75mm (about 2.75 x 8.25 x 1.25 inches).
Hers a look at the specifications from Cyber Acoustics.
Specifications
Drivers: Dual 1.5" Stereo
Input: USB
Power: USB
Device Compatibility:Windows® 7, 8.1, 10, 11 /Mac® OS X (10.0 or later) /Chrome® (6.0 or later)
Features
RMS 1W x 2
Full USB Speaker Bar
Designed to mount on bottom of monitor
Dual 1.5" ported stereo drivers
Convenient controls
Play/Pause button
Speaker Mute button
Volume up / down
LED indicators
USB input cable - 2m
USB-A to USB-C converter
A large spring-loaded grip is designed to affix the speaker to the bottom of a typical monitor. The same grip can hold the speaker as a stand if you wanted to use it as a free-standing speaker. I found the cut out on the front works perfectly to let your laptop camera peak out with the speaker clamped on the top of my ThinkPad.
Control for the CA-2890BT can be found on the bottom surface (or the top?). The buttons are from left to right: Play/Pause, Speaker Mute, Volume Up, and Volume Down. There are also two indicator lights. The left shows the status for power and the right is for mute.
Connectivity is provided by a USB 2.0 cable or through Bluetooth 5.0. The speaker also has a few audible prompts like" PC connected" or "Bluetooth". Though it doesn't tell you when you are on mute!
Testing
I tested the CA-2890BT for a good week of work as my primary audio device. This meant replacing my ThinkPad for speakers and a mic. The Speaker requires no drivers and detected easily in both WebEx and Zoom.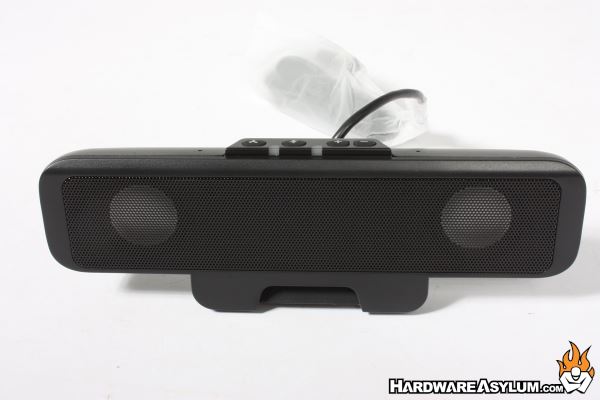 For conference calls I found the audio crisp and clear with plenty of volume for those soft-spoken coworkers. My team found the Mic audio clear as well. The sound of my mechanical keyboard was only just audible at a distance of about 2 feet.
Listening to music or video reveals some of the weakness presented by the low 1W x 2m setup. The speakers strained with demands of a fuller sound stage and felt focused on the upper mids and highs. I can safely say this setup is not designed to replace a music centric soundbar but it will do in a pinch.
Conclusion
The Cyber Acoustics CA-2890BT USB Speaker is an affordable replacement for your laptop or monitor speakers that can free up some space through the clever clamping mechanism. As a laptop replacement it excels at providing a conference call solution or wearing headphones all day. The addition of Bluetooth gives a nice option to do double duty in your home office.
As a music soundbar the Cyber Acoustics CA-2890BT USB Speaker is better than your onboard sound or even your phone but it lacks the power to rival true Bluetooth speakers. Still, I found it handy on my laptop and plan to add it to my travel kit going forward. If only it had a travel bag!