Cooler Master Storm Sonuz Gaming Headset Review
Author:

Dennis Garcia
Published:
Thursday, July 05, 2012

Introduction
Most gamers will agree that having a good set of surround sound headphones is a key feature for getting the most from your gaming experience. Not only does it add to the realism of the game but can often determine your position on the leaderboard. Despite how good they may be surround sound headsets often suffer from a variety of issues stemming from overall weight, cost and sound quality. The resulting issues often overshadow the fact that sometimes all you need is a good set of stereo speakers.

In this review I'll be looking at the latest gaming headset from Cooler Master called the Storm Sonuz. The Sonuz is a lightweight multipurpose gaming headset that features a comfortable over ear speaker design, large 53mm stereo drivers, removable microphone and in-line remote for volume and microphone control.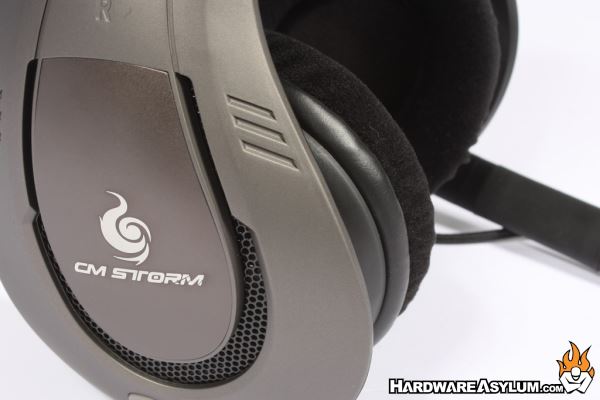 Specifications
Model SGH-4010-KGTA1

Headphone
- Driver diameter: 53mm
- Frequency range: 10 - 20,000 Hz
- Impedance: 45ohm
- Sensitivities (@1kHz): 98 dB ± 3 dB
- Connector: 3.5 mm gold-plated headphone jack
- Inner Ear Cup Diameter: 97.0 mm
- Cable Length: 2.0m
- Max Output: 200mW

Microphone
- Frequency range: 100-10,000 Hz
- Sensitivities (@1kHz): -47 dB ± 3 dB
- Signal-to-Noise Ratio: 58dB
- Pick Up pattern: Omni-Directional
- Diameter: 4x1.5mm

The Storm Sonuz is rather large for a stereo headset mostly due to how the speakers attach to the headband. Most headsets attach to either side of the speaker to give the product a slim profile. Sonuz takes this concept but moves the attachment to the outer edge which allows the speaker to tilt in any direction and fit any style person.
The headband features a very elegant bend that will place the top foam pad further back on your skull to provide better support and balance.