Creative Labs iRoar Bluetooth Speaker Review
Author:

Darren McCain
Published:
Wednesday, May 25, 2016

iRoar and the Amazon Dot
I have to admit I love my Amazon Echo. When the opportunity to pick up a Dot for use with my Denon Home Theater receiver I jumped at the chance.
As chance would have it, my iRoar arrived first and when the Dot showed up it was instantly out of the package and upstairs to the office. Plug in Dot via the audio link cable and in minutes I am using Amazon's voice control through my iRoar.
I cannot begin to tell you just how much I love the Creative iRoar as a companion to the Amazon Dot. Its perfect synergy! The Dot seamlessly streams my favorite online content news and even the time and weather. The iRoar takes the audio and makes it sound fantastic. Hands free volume adjustment and my choice if content are now just a voice request away all day.
Get a phonecall? No problem, the iRoar nicely mutes Alexa and lets me take the call hands free. Feel like some dubstep, just ask. I can tell you these two devices were made for each other. Now I have another Dot on the way i'll have to get another iRoar to match.
Conclusion
I have used a lot of Bluetooth speakers in my time and consider most a necessary evil or at best forgettable. The Creative iRoar is in a completely different class. During this review I tested it against devices from Pyle, JBL and Riva. Hands down the sound quality is so much better than any of my portable speakers that it gives my expensive home theater pieces some competition. Not only does the Creative iRoar sound better than any Bluetooth speaker I have heard it also heaps on functionality until I can't be sure I have even tried everything out.
I did not expect to love the Creative iRoar but it has quickly become one of my favorite devices. It's easy to use, looks great and sounds like a much larger speaker setup in nearly every way.
If I had to pick a shortcoming it would be the limitation of the bass possible in a device this size. Creative has even solved this problem by providing an optional iRoar Rock subwoofer that simply docks under the iRoar to give you full featured bass in a proper sized enclosure..
Hum, perhaps one of those will be on the way by the time you read this!
Good Things
Sound quality is best in class
Portability
App support
Connects to everything
Bad Things
Requires SD card for many functions
Needs a subwoofer for full spectrum sound
Price?
Additional hardware can add up
Hardware Asylum Rating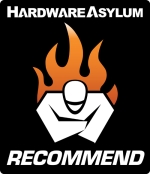 Creative Labs iRoar Bluetooth Speaker Review
Recommend
https://www.hardwareasylum.com