1More Spearhead VR BT In-Ear Headphone Review
Author:

Darren McCain
Published:
Tuesday, February 05, 2019

Introduction
One of the great things about traveling to the Consumer Electronics Show every year is the chance to find something fun that was completely off your radar. When I heard that 1More had won a CES Innovation Honoree Award for their 1MORE Spearhead VR BT In-Ear Headphones I was intrigued. When I heard they were designed for gaming and VR, I had to track a set down.
In-ear headsets have always struck me as for sports or working around the yard. But 1 More claims these will allow mobile gamers to have the same immersive mobile gaming experience as 1MORE's fully-loaded over ear offerings. Let's find out!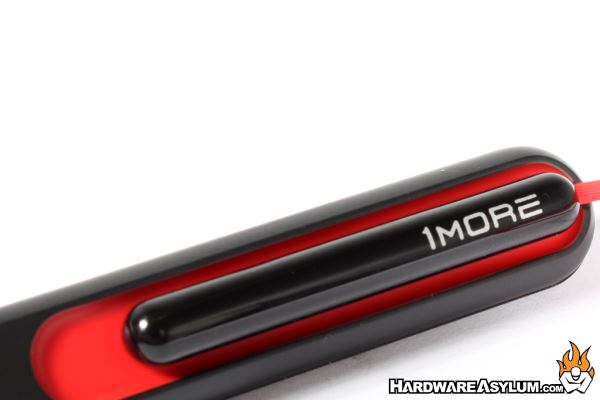 The 1More Spearhead headset is definitely one of the nicest looking in-ear setups I have seen with an attractive black and red design that looks very modern and stylish. I did have to check the packaging because I was unsure if the construction was really all plastic because the finish could easily be mistaken for aluminum. The around the neck design also features a flexible, ergonomic silicon coating.
Overall the Spearhead headphones may be the best looking in-ear design I have ever seen. Let's take a look at the specs.
Features
DUAL-DYNAMIC DRIVER- A coaxial design allows two diaphragms to be placed on a single axis, meaning the two are face-to-face with an offset magnetic interference which ensures high sensitivity. A titanium diaphragm combined with a graphene composite diaphragm produces a precise and accurate soundstage.

ENVIRONMENTAL NOISE CANCELLATION- Our proprietary ENC microphone technology filters out background noise so communication remains crystal clear no matter which environment you are in.

FLEXIBLE ERGNOMIC HEADBAND- The flexible ergonomic neckband is coated in a skin-friendly silicone that allows for extended gaming sessions without any fatigue or discomfort.

ULTRA-LIGHTWEIGHT DESIGN- Enjoy a lightweight yet durable headphone that only weighs 32 grams.

MULTIPLE CUSTOM LIGHTING OPTIONS- Customizable lighting options allows you to control different lighting schemes.

FAST CHARGE CAPABILITIES- Fast charging capabilities let you play longer without taking as long of a break. 10 minutes of charging gets you 3 hours of gameplay.
Specifications
Model: E1020BT
Weight: 32g
Charging Time: 1 Hour
Talk Time: 6 Hours
Music Play Time: 6 Hours
Impendence: 32 Ω
Wireless Range: 35 Ft
Input: 5V 1A
Bluetooth: Bluetooth V 4.2
Bluetooth Protocol: HFP/A2DP/AVRCP
The name 1More may be unfamiliar to you but their products have been making an impact at CES. With six CES Innovation Honoree awards in 2018 and 2019, 1MORE has become the most awarded headphone brand at CES during that time. Products chosen as CES Innovation Honorees reflect innovative design and engineering in some of the most cutting-edge tech products and services coming to market. 1MORE is the only headphone brand to win such distinction two years in a row for its innovative technology and value.
All 1MORE products are expertly tuned by Grammy Award-winning sound engineer, Luca Bignardi, to deliver a precise representation of the artist's expression through 5 accurately tuned balanced armatures.
I rarely comment on the packaging but the beautiful design sketches and a simple magnetic closure really do warrant a mention. All the features are prominently displayed and the product is clearly pictured. This is a box you might want to hold on to; fortunately it also makes for an easy to use storage solution.
Included in the package is an attractive storage bag, a micro USB cable, a set of extra Silicon ear tips (XL/L/S), a 1More Bear sticker and a User's Guide.
The controls are found on the inside left with all functions controlled by various key combinations. The large power button acts as the power, call connect/disconnect and Bluetooth paring key, all pretty much how you would expect.
Tapping the power button 3 times and then pressing the plus or minus changes the lighting mode. And media control is active when playing music or using the phone. It probably took longer to type this than to puzzle that out right?
The rear buds are not retractable like some of the more popular pairs of in-ears but, the result is a net weight savings that is outstanding. We are talking about a full setup that weighs only 32g (about 1.12 ounces). That's about what 4 sheets of A3 paper weigh! The ear buds are labeled to make them easy to install and fit very comfortable once the correct tip is fitted.
Red LED lighting can illuminate the 1More logo on the outside of the earbud. The lighting can be disabled but, are not bright enough to be distracting and will definitely attract attention. Your customizable lighting options are: On, Heartbeat, Breathing, and Off.
Testing
I tested the 1More Spearhead setup over several days both at work and play. Most of that time I paired them to my Motorola Z2 Play phone. I also used an aptX adapter to pair with my PC for FLAC play. My music selection was across the usual range of test tracks (EDM, Classical and Jazz) and from an array of downloaded phone games.
First impression: Wow! The Spearhead headset sounds great. No doubt due to the dual diaphragm construction. Noise isolation with active noise cancellation was far better than your usual good fitted in-ear set. During my testing I found myself alternating between my B&O H7's and the 1More Spearheads to try and identify any major nuances and was actually upset that I couldn't find any.
The Spearhead is marketed as a VR BT headset and I can't honestly say I found anything to indicate any special game processing was happening. Still the light weight design would make these a great headset solution when paird with your existing VR system. Positional sound was good but not a 5.1 solution simulated or otherwise which makes me wonder if something was lost in the naming translation. I should also mention there was no mention of any sort of water resistance.
Conclusion
Confession: I don't often reach for in-ear headphones, that is not my style and any good set of on ear or full sized headphones can provide a much better range. Still I found myself leaving the Spearheads on until the low battery warning made me take them off. They are so easy to use and so light weight I couldn't find a good reason to switch back. They simply don't get in the way and sound better than any other in-ear setup I have ever used.
If you are looking for a good light weigh in-ear setup 1More spearhead headphones are a fantastic step-up. Controls are intuitive and the lighting effect looks sharp. They disappear into the background leaving you with a pure audio experience that punches well above their weight class.