Plantronics RIG 800LX Wireless Gaming Headset
Author:

Dennis Garcia
Published:
Thursday, February 14, 2019

Introduction
For years many have said you can game on just about anything and for the most part that is true. Mobile phones can play Battle Royale and $20,000 workstations can play Popcap. What really separates a gaming PC from something you give your mom is the quality of the gaming experience (unless your mom is a gamer). You'll want smooth gameplay, great controls and the immersive sound that can really put you in the game.
In this review I'll be showing you the Plantronics RIG 800LX. This is a wireless gaming headset that is built on the Plantronics RIG platform. It shares many features with the RIG 400LX that I reviewed last year. The box heavily suggest that this is an Xbox One gaming headset however, it also works just fine on a Windows PC.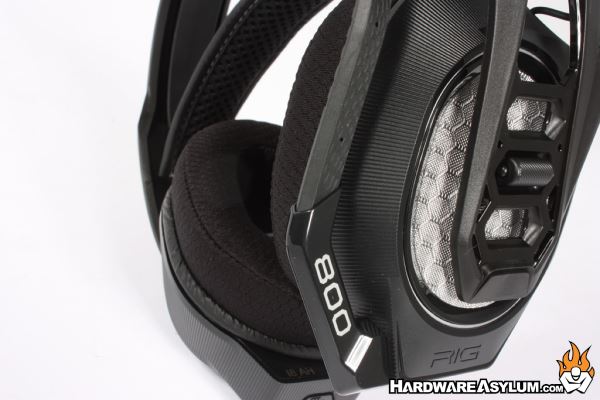 The Plantroncs 800LX is a priced well for a wireless gaming headset. It features a lightweight plastic frame with ample padding for the earcups and headband. Each ear cup is adjustable by removing it from the frame and repositioning it to better suit your head shape. The padding itself is firm memory foam and thick enough to hold its shape against your head promoting good sound isolation and long term comfort.
Combining a lightweight headset with relatively stiff padding doesn't normally sound like a good combination however; the self adjusting headband and ear cups don't need much pressure which is a good combo.
For a wireless headset the Plantronics 800LX does not weigh much making it perfect accessory for long gaming sessions. Of course the biggest challenge with any wireless device is battery life. Plantronics advertises the 800LX to have a 24 hour battery with casual listening and you can get about 1.5 hours of game play from a 30min quick charge.
It takes about four hours and thirty minutes to fully charge and if you remember to turn off the power it will stay charged until you need to use it.
All of the headset controls are located on the left earcup including power, headphone volume, game sound vs team chat mixer and the charging port. On the bottom of the right earcup you will find the EQ button with four presets.
Pure EQ
Seismic EQ
Intensify EQ
Vocal Focus EQ
Each setting changes the sound slightly so be sure to click though to find out what setting fits your ear best.
A cool feature I enjoy is that the heatset will talk to you and relay important stats. For instance when you turn the power on it will tell you what the battery level is and will also indicate when it has connected to the USB dongle. Microphone status is also relayed when you swing the boom up and down.
40mm dynamic drivers are used in the 800LX and feature bass tubes for that extra bit of bass boost. They feature typical 20-20kHz frequency range at 32 ohms and support Dolby Atmos. The right side is clearly marked and if you look though the speaker cloth you can make out what appears to be a metal dome driver.
The Plantronics 800LX does require a transmitter to operate. This control box is USB connected and has a selector switch for what system you are connected to. I suspect this changes the way the driver reacts so make sure it is set correctly.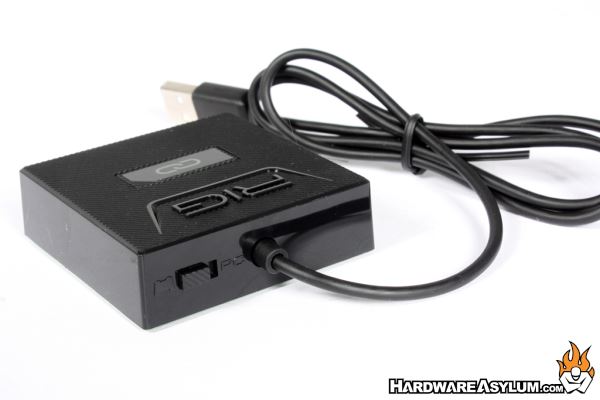 Plantronics has indicated a 10 meter operating range and I would fully agree. There is a pairing button across the top of the control module and while it is nice since it will reset the connection if needed.
Honestly the setup and operation is super simple. Make sure the headset is charged, plug in the control module and hit the power switch. The headset will indicate that it is connected and you are done.
Usage and Conclusion
Plantronics is not a name you would normally associate with gaming and the RIG 800LX goes a long way to change that perception. The headset is very lightweight thanks to the modular plastic frame and ample memory foam padding. In terms of size the headset features a LOT of adjustment allowing it to be customized to fit anyone. Simply pop the speakers out of the frame and move them to one of the other two locations. This makes it perfect for young gamers that struggle finding headphones that actually fit while allowing it to be use on adults that suffer from the same problem.
I find this to be one of the biggest strengths of the entire RIG lineup along with the ease of use and sound quality.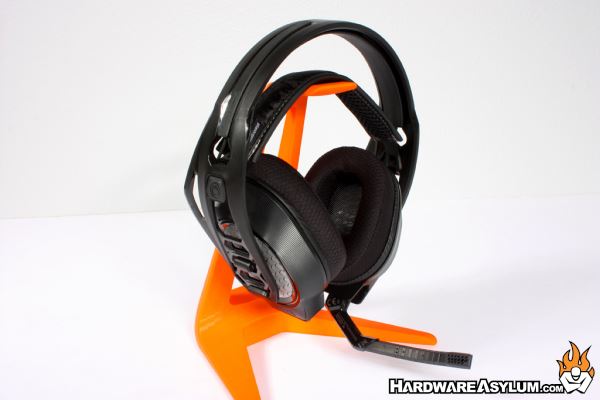 I am a bit of a purest when it comes to my gaming accessories and prefer to have cables attached. That way I am assured they are working, there is no lag and no need to charge anything. Of course I am also biased having gamed during the "dark times" of wireless accessories where battery life was questionable and the connection was unstable.
The Plantronics RIG 800LX features a quick charge system that can fully charge the headset in a little over four hours with a run time of 1.5 hours per 30min of charge. The documentation and website claim there is a 24 hour battery and I suspect this is limited to light listening and standby time for when you forget to turn the power off.
The sound quality also really impressed me. Frequency response, volume and 3D positioning were extremely good and honestly better than I had expected. Given that this is a wireless headset there is often a compromise between offering longer battery life vs higher quality sound. Plantronics has struck a happy medium on the side of sound quality due to how efficient wireless headphone technology has gotten.
Microphone quality was also good though did require some adjustment to get the levels right. Frequency response is within the vocal range which helps reduce environmental noise and amplify your voice. Just be sure to have it flipped down when you expect to talk.
The voice will let you know when it is correct.