Tunai Square Portable Bluetooth Receiver Review
Author:

Dennis Garcia
Published:
Friday, September 13, 2019

Introduction
Bluetooth technology has been around for quite a long time. It started as a "personal network" protocol that was designed to be a low powered alternative to wifi and has since become one of the most common protocols for mobile devices and anything you would normally have connected with a cable. In this review we will be looking at the Tunai Square. This is a Portable Bluetooth Receiver that allows you to make any corded headset wireless over Bluetooth.
The Tunai Square is a self contained device and builds on many of the previous products that Tunai has made in the past. For instance we recently reviewed the Tunai Button which is a Bluetooth remote for Android and apple devices. Before that we looked at the Tunai Drum which was a Kickstarter funded set of earbuds with enhanced bass while still offering a full audio experience. Maybe one of the most exciting Tunai product would be the Wand which was a Bluetooth transmitter for your home theater environment.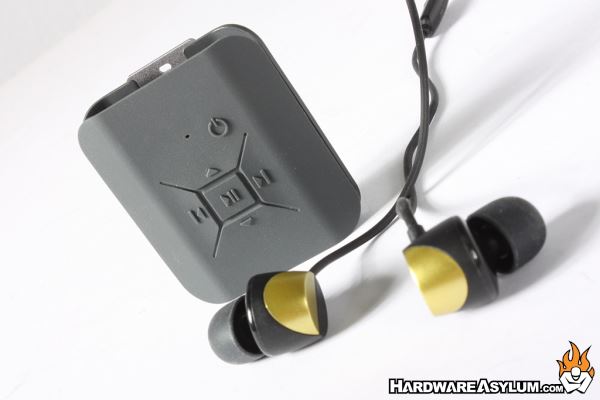 One of the common problems with Bluetooth headphones, earbuds, and speakers is that there is always a compromise. With earbuds you are often battery limited which can sometimes impact sound quality. For an audio enthusiast there is also the issue of headphone quality in that the good ones are not Bluetooth enabled and adding the feature is cost prohibited. An easy solution is to acquire a headphone receiver that allows you to convert any wired headset into a wireless one.
Specifications
Bluetooth chip: Qualcomm CSR Bluetooth 5.0
Discrete DAC: Cirrus Logic 114dB DNR
Profile Support: A2DP, AVRCP
Audio format: aptX, aptX Low Latency, AAC, SBC
Bluetooth range: Extended 165 ft/50m (open space)
Built-in microphone: Digital MEMS 62dB SNR
World's only built-in cord management
Battery life: 7 hours of continuous playback
Aluminum alloy clip design to operate with one hand
Size: 1.97in x 1.77in x 0.47in
Weight: 0.59oz
Square Layout and Features
The Tunai Square is a relatively small device at a little less than 2 inches square and covered in a thick rubber cover. However, calling it a cover is a bit of a misnomer since it really it's just two pieces of rubber connected to each of the two sides.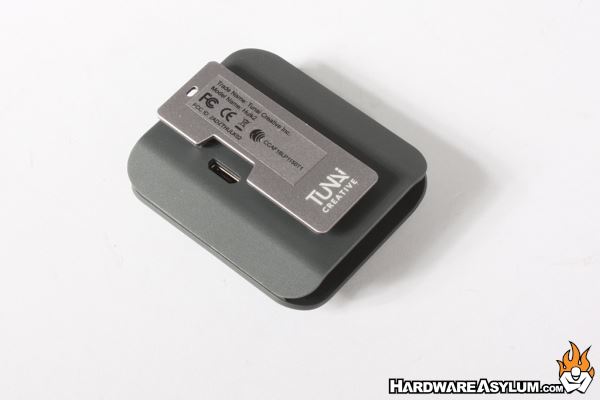 On the back you'll find the Micro USB charging port and clip allowing you to attach the Square to something and keep it from moving around.
In addition to the Tunai Square being a Bluetooth receiver it will also communicate back to your device giving you playback controls from the Square including track seek, play /pause and volume. A power button is located in the upper right with a blue LED indicator for when the device is in use.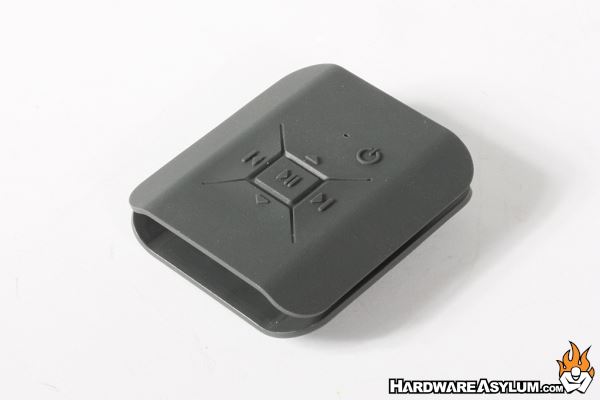 From this angle you'll see that the rubber coating is actually two parts and one of the most annoyingly helpful parts of the Square. You see the cover is actually a cable chase where you can wrap your headphone cable when not in use, or if the cable happens to be too long.
I found that pulling back two of the flaps allow the cable to be easily wrapped and worked well at capturing the full length of my Tunai Drum earbuds.
The main connection is a 3.5mm analog jack that will accept three and four pole audio plugs and does a good job at securing the jack in place.
Usage and Conclusion
As with any Bluetooth device the range is dependent on your transmitter. I had paired the Square with the Samsung Galaxy S7 (I know, super old school) and the paring went extremely well. I powered on the Square and then enabled Bluetooth on my phone. After a short second the Square came up as a device to pair with and BOOM, that was it.
From there I experimented with playing music on Pandora. Overall audio quality was no different from having the Tunai Drum directly connected. Highs were crisp and lows were rich and full. When testing operating distance I quickly discovered the limit of the Galaxy S7 and was able to get about 40 feet away before audio quality started to suffer. Granted the signal had to pass through three walls and overall I was extremely impressed.
Personally I would consider the Square a personal BT receiver where your mobile device is not to far away as that gives the quickest response times and best audio quality. Speaking of response times the built in controls were very responsive and worked extremely well with the apps I used during testing. For audio with a track list the forward and back buttons worked as expected however in applications without a track list I discovered that forward and back would end and start the track I was on.
Overall I did find the Tunai Square to be extremely helpful in that it could convert any wired heatset into a wireless one from low powered ear-buds to full sized DJ style headphones the Square could power them both without a quality drop. I did find the rubber parts used to hold headphone cables to be a little cumbersome, so much that I almost cut them off. Being able to wrap up extra headphone cable is a nice benefit however the edges catch on everything including "you" when moving around and on several occasions caused the Square to go flying.
If you are looking for a great way to convert any wired set of Headphones be sure to check out the Tunai Square. It is a super small device that works extremely well, supports all of the latest audio technologies and has a battery life of 7 hours when used continuously.
For more information be sure to check out the Tunai website
The Tunai Square is currently available on Amazon