WAND by TUNAI Wireless Home Audio Entertainment Improved
Author:

Darren McCain
Published:
Thursday, April 12, 2018

Introduction
One of the great things about reviewing hardware is the opportunity to play with devices you might otherwise have missed. Such is the case with Tunai's latest accessory, the Tunai Wand. The Wands is a pocket sized wireless hub for your home entertainment center or PC.
Designed to allow long range Bluetooth streaming for up to two devices, the Tunai Wand may just be that one device you never knew you needed!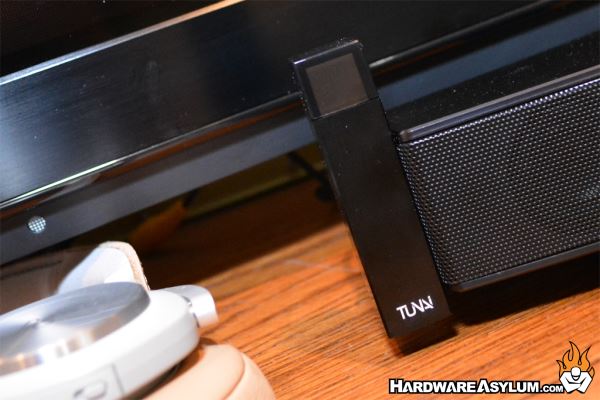 The Wand is quite small measuring at just 0.67in x 0.67in x 2.95in (17mm x 17mm x75mm) and a large part of that is the top activity light. The body is all black anodized Aluminum with a hairline brushed finish while the top is made from transparent PET with a light that also functions as an input toggle. Thanks to a set of built in magnets, you can place the Wand on just about any electronic device. Tunai also mentions the width is about the same as a Command Strip or 3M tape if when no metallic surface is available.
Features
Wireless audio hub for home entertainment – Stream audio to headphones
Long operation range – Freedom to move around with quality sound
Lip-sync delay free – Video and audio synchronized
Multiple source input – Allow audio from analog, optical and USB
Dual device connection – Stream audio up to 2 devices simultaneously
CES 2018 Innovation Award
World's smallest and most compelling Bluetooth transmitter
Specifications:
Bluetooth 4.1
Profile support: A2DP, AVRCP • CODEC support: aptX, aptX low latency, SBC
Operation range: up to 164ft / 50m (open air) *1
Max device connection: 2 devices*2
Audio input: AUX, SPDIF, and USB
Product dimension: 0.67in x 0.67in x 2.95in / 17mm x 17mm x75mm
Weight: 0.77oz / 22g
*1: Operation range may vary by environment, receiving headphone and devices.*2: aptX low latency is not supported when connecting with 2 devices simultaneously.
The word Tunai comes from Tamil, the official language of Sri Lanka, as a pronunciation of word "accessory". Founded in 2014, Tunai Creative has amassed talents from technology leaders in Taiwan and Germany in an effort to put together an organization that is as innovative as it is effective. They have won praise for their efforts throughout Taiwan, South Korea, the United States, and Europe, where Tunai products have been recognized for quality and utility. Both a successful Kickstarter and Taipei International Computer Show Innovative Product Design Award winner Tunai continues to bring innovative accessories to market.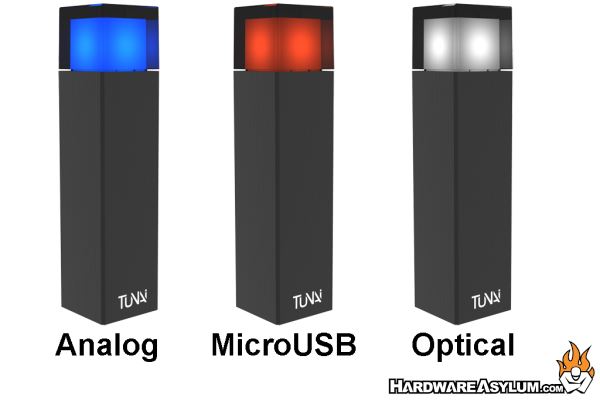 Connectivity options include AUX, SPDIF, and USB with the SPDIF located on the bottom side. Power is provided by the USB making it the only required connection. I found an extra plug on the PS4 or the back of my TV provided power though a simple USB adapter would be a cheap pick up to untether if needed. Here you can see the Wand attached to the side of my Creative Sound BlasterX Katana.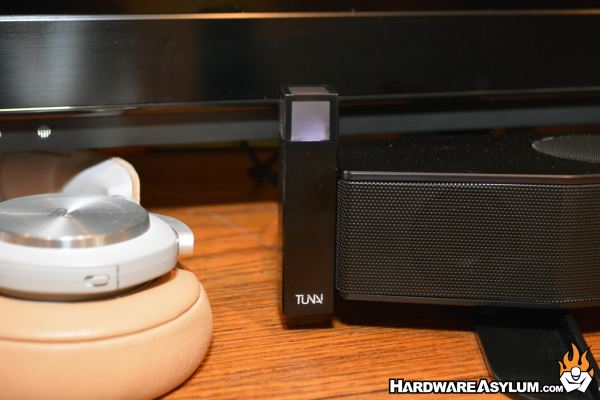 Paring the Wand is pretty simple. Turn it on and the light will flash as it detects available devices. If your headphones are in range and open for pairing they will quickly connect. Pushing down on the top will toggle the primary input source though up to two are supported with some limits.
As noted, aptX low latency is not supported when 2 devices are connected simultaneously.
Testing
I tested the Tunai wand with a couple of different headsets both together and separately. First I pared my B&O Play BeoPlay H7 headphones. These are some of my favorite wireless headphones due to the superior comfort and battery life. They also use Bluetooth 4.2 with aptX. Amazingly the paring was so smooth I thought it had failed and the Katana was still playing. Imagine my surprise when I took them off and heard nothing! That's pretty impressive.
I ran through a handful of music and TV before settling in to watch the Flatliners reboot. Tunai really nails the syncing with no noticeable delays. Fortunately the sound made up for the rather lackluster remake! It's hard to give up my dedicated home theater or even the Creative Katana but the sound is on par with the best of my Bluetooth experiences and I'll take good stereo sound any day.
Range was impressive as well allowing me to roam around the house with little interference until I had 50+ feet and a couple walls between us. I was even able to wander the yard with no loss through the wall which is impressive for any Bluetooth device.
I also tried adding a second headset, the Avantree ULTRA-SLIM Bluetooth Neckband Around the Neck Headphones that I normally use for yard work. While not so spendy, they do offer aptX technology as well. I didn't notice any drop in performance but the wireless range was somewhat shorter.
Conclusion
The Tunai Wand was an under the radar as a CES 2018 Innovation Awards Honoree and definitely hits above it's weight class. The wand is simple to setup and provides seamless Bluetooth connectivity for just about any device that plays sound. The simple elegance of the brushed Aluminum matches up nicely with all of my home theater devices and disappears in to the background like a good audio device should.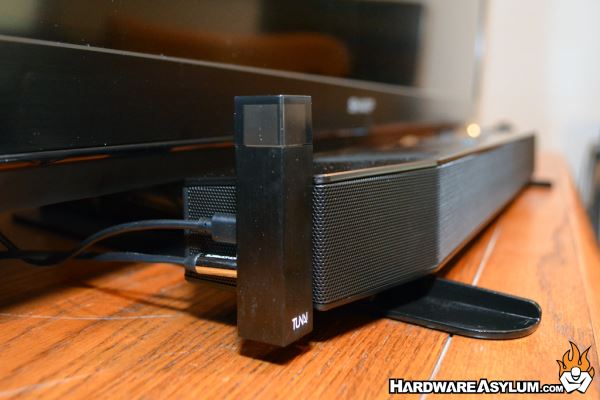 If you find you can't listen to your music or movies at the level you would like, be it sleeping babies or just the roommates, the Tunai Wand is exactly what you need to make any device a Bluetooth media champ.