Adata DashDrive Elite UE700 32GB Flash Drive Review
Author:

Dennis Garcia
Published:
Tuesday, May 21, 2013

Introduction
Portable storage is available in many different formats from external hard drives, mobile phones and even optical disks. Of the many options available there is one format stands above the rest and has quickly become de facto standard in portable storage called Flash. Flash storage isn't new and started its popular career in digital cameras due to cost and manufacturing constraints. These days you can find flash memory in just about everything including USB storage devices like the one featured in this review.

The DashDrive Elite UE700 from Adata is not unlike other flash devices on the market. It comes in a variety of storage capacities and features a USB interface enabling it to be used on any modern PC of the past 10 years. What makes the UE700 special is the new USB 3.0 interface and large capacity.

In the UE700 package you will get a very compact flash drive measuring in at 63 x 21 x 7mm (2.5 x 0.8 x 0.3in) making it typical of main stream flash drives and yet considerably thinner. At 7mm tall you'll be hard pressed to find a fully encased drive to match. As with most Adata products you are given a keychain loop with the option to attach the included dongle or use something you already have.

For protection the USB interface slides in and out of the aluminum case using the thumb slider located along the side. You may not realize this but the color of the USB connector indicates the supported speed. Black tabs are USB 1.0 and 2.0 while light blue tabs are fully USB 3.0 compliant and are usually backwards compatible with USB 2.0.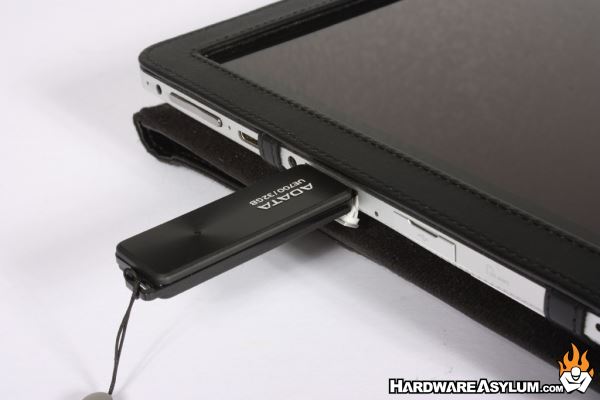 The aluminum styling and blue activity light give the DashDrive a very stylish appearance that looks as good in transit as it does in use. For our testing we used the UE700 on a variety of devices including the Asus Slate and Big Bang Xpower. In both instances the drive worked flawless and as expected.