Crucial P2 500GB NVMe M.2 SSD Review
Author:

Dennis Garcia
Published:
Thursday, May 14, 2020

Introduction
Advancement is the name of the game when it comes to computer hardware. Not to long ago SSDs where small, slow and quite expensive. Despite this they proved to be faster than a rotational drive and would eventually become a favorite solution for portable computers. M.2 NVMe SSDs are no exception, these SSDs offer higher performance with a much smaller footprint allowing laptop manufacturers the option to build faster and smaller systems.
When it comes to building a NVMe SSD there are two tracks that I have noticed. On one side we have companies attempting to capitalize on the performance aspects of NVMe SSDs and build the fastest drive they can allowing cost to be what it is. As you can imagine the opposite is to strike a balance between price and performance were the drive is inexpensive and yet just fast enough to offer a performance gain.
One of these options is an attempt to drive sales while the other favors prestige.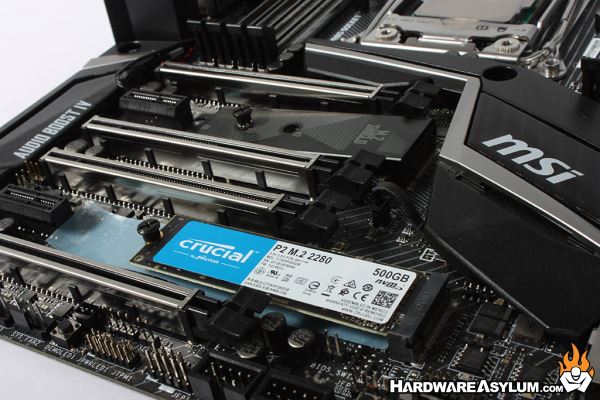 In this review we will be looking at the latest NVMe SSD from Crucial the P2. We reviewed the P1 a couple years ago and were impressed even though it wasn't designed for performance. However, It was the first NVMe drive from Crucial and served as a stepping stone for what would come next. The Crucial P2 is a second generation drive build using the NVMe 1.3 standard and designed to be a lower cost storage option with excellent read performance.
Specifications
SSD Series - P2
Warranty - Manufacturer's 5 Year Limited
Form Factor - m2_2280
Sequential Read - 2300 MB/s
Sequential Write - 940 MB/s
Capacity – 250GB / 500GB
Interface - PCIe G3 1x4 / NVM
As you can see the Crucial P2 is a single sided M.2 2280 SSD using LTC 3D NAND. As of this review you can get this drive in sizes from 250GB up to 500GB at a price point anyone will enjoy. In terms of performance Crucial claims the drive to have 2300MB/s Read and 940MB/s Write however, our benchmarks tell a different story.