HyperX Predator 240GB M.2 PCIe SSD Review
Author:

Dennis Garcia
Published:
Friday, November 20, 2015

Introduction
Storage is one of the big mysteries of a modern computer system. Some users incorrectly call it memory, others call a drive and even few think adding a larger one will increase performance. Truth is storage dynamics have changed so much over the years from rotational interfaces to solid state it is no wonder people are confused.
In this review it is time to get back into storage and first up is the HyperX Predator M.2 240GB PCI Express SSD. Readers of this site will know that we tend to focus on high-end enthusiast hardware namely motherboards, video cards, memory and cooling. Storage wasn't expressly excluded from that formula but, when it comes to LN2 oveclocking your choice in storage system really doesn't really matter. As a result it wasn't much of a concern.
With the advent of X99 and Z170 you will see resurgence in storage importance starting with M.2 leading towards NVMe, SATA Express and other PCI Express based storage connections. While SATA devices will remain inexpensive the real power and speed comes from direct PCI Express connections between storage and the CPU.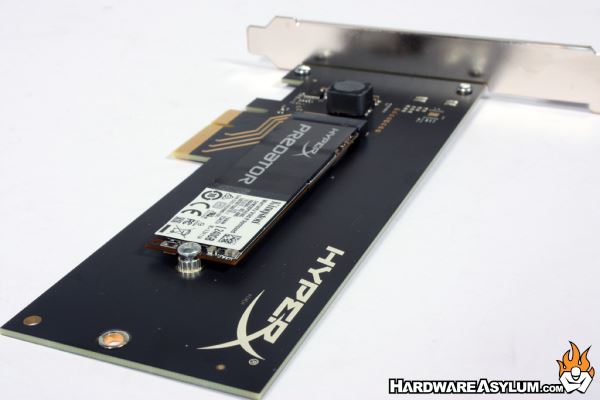 M.2 is a specification for internally mounted expansion cards and replaces the older mSATA standard. The connector uses a PCI Express Mini Card layout with flexible layouts allowing for a variety of card widths and lengths. Since the connection is PCI Express based you are given a wide vareity of interface options allowing the cards to not only be available for storage but other devices requiring up to 4x PCI Express lanes of bandwidth.
For instance you can currently purchase M.2 SATA 3 SSDs or M.2 PCI Express drives. They both plug into an available M.2 connector but the interface to the SSD will dictate the speed of the drive. Likewise you can get NVMe adaptor cards to support standalone NVMe SSDs or plug in a standard Wi-Fi card or video decoder.
Will M.2 replace a standard expansion slot? Not likely but it does allow small form factor machines and portables more expansion options and allow manufactures the ability to produce generic hardware and customize the products with expansion cards.
Sound familiar?