Kingston DataTraveler Locker+ G3 Secure Flash Drive Review
Author:

Dennis Garcia
Published:
Tuesday, April 08, 2014

Introduction
Security of personal files is a big problem in our digital world. Malware runs rampant on the Internet and if you're not careful total control of your computer can be auctioned off to the highest bidder. Many of these situations can be avoided with some common sense and good software but what about portable data? You know, the files stored on the flash drive you carry to work or leave in your car. Those files are often unencrypted and easily accessed using any modern computer leaving "you" as the only security hurdle.
In this review we will be looking at the Kingston DataTraveler Locker+ G3. This is a product designed with security in mind and will protect your portable files from anyone who doesn't need access.
Kingston's DataTraveler Locker+ G3 password protects and hardware encrypts whatever data you place on the drive. The flash drive comes with a USB 3.0 connection and is protected with a sleek and durable metal casing. The DTLPG3 also boasts higher speeds than the previous generation DataTraveler Locker+ G2, with read speeds up to 135MB/s and write speeds up to 40MB/s.
Security is controlled by the drive and uses a stand-alone application to control drive access. Because of this you will also need two free drive letters on your computer for the hidden partition. The first letter will allow you to run the security application while the second activates only after the security conditions have been met.
DataTraveler Locker+ G3 Specs and Features
Hardware encryption: the best in personal security to keep your data safe
Superior password protection: user sets a password to prevent unauthorized access
Easy to use: no application installation required
Versatile: works interchangeably between Mac OS X and Windows systems
Secure: drive locks down and reformats after 10 invalid login attempts
Stylish: durable metal casing with built-in key loop
Co-Logo Program available: customize DataTraveler Locker+ G3 by adding your logo and/or digital files and instantly increase your organization's brand recognition. The Customization Program offers unique packaging, custom profiles, color adjustments, content loading and more, all with easy and convenient ordering.
Supports: Windows 8, Windows 7, Vista, XP & Mac OS X
Guaranteed: five-year warranty with free technical support
Capacities: 8GB, 16GB, 32GB, 64GB
Speed: USB 3.0 speed:
- 8GB: 80MB/s read, 10MB/s write
- 16GB: 135MB/s read, 20MB/s write
- 32GB–64GB: 135MB/s read, 40MB/s write
USB 2.0 speed:
- 8GB: 30MB/s read, 10MB/s write
- 16GB–64GB: 30MB/s read, 20MB/s write
Dimensions: 60.56mm x 18.6 mm x 9.75 mm
Minimum System Requirements:
- USB 3.0 compliant and 2.0 compatible
- Two (2) free consecutive drive letters required for use
Operating Temperature: 32°F to 140°F (0°C to 60°C)
Storage Temperature: -4°F to 185°F (-20°C to 85°C)
There are plenty of ways to secure data on a flash drive. One of the popular methods is to encrypt the entire drive but when doing so you lose the ability to transfer files to another system. Some encryptions install a security application to unlock the drive but that doesn't prevent you from viewing the encrypted files.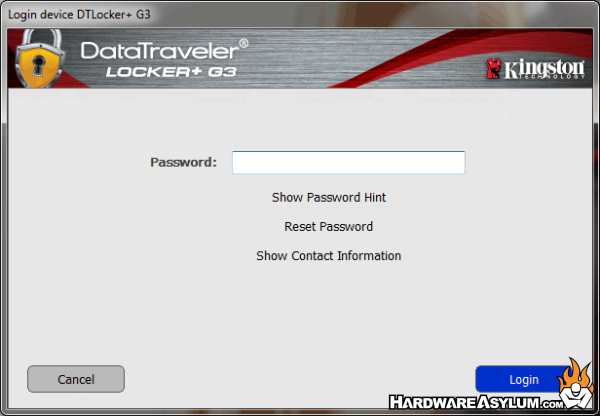 The DataTraveler Locker+ G3 takes a similar approach but uses a hardware encryption method to secure your data. When you first plug-in the DataTraveler you will find the small 10Meg security partition and the required security software. At this point the encrypted partition is not active and cannot be accessed directly until you run the security software and enter the correct password. As an additional security measure you are only allowed to enter the wrong password 10 times before the device is locked forever. Locking the device doesn't prevent it from being used but will erase any data you have on there.
We found the DataTraveler Locker+ G3 to be extremely easy to use and while entering a password seems tedious you only need to enter it once per session and appears to have no impact on transfer speed given the high-speed hardware encryption. We also really liked the sold metal shell that gives the DataTraveler some actual weight and the feeling of quality.
Look for the Kingston DataTraveler Locker+ G3 at any online retailer or contact Kingston directly if you want a good number of them personalized for your company.