Lexar PLAY microSDXC Review
Author:

Dennis Garcia
Published:
Tuesday, March 9, 2021

Introduction
One of the age-old issues when it comes to computers and personal electronics is storage. If we go back to the before times, in the way back ago 640kb was all you would ever need. With that you could load your apps, view your documents and even play some games but, there were limitations. To get the most from your devices you need more memory. These days mobile devices are bought and sold based on how much internal storage they have and while some allow you to expand the internal storage later there is a clear path to the purchase. For those recording video and taking photos the size of your memory card often dictates how long your video shoot will be and how often you need to change cards.
In this review we will be looking at a new microSDXC line from Lexar called PLAY. These cards are designed to offer a perfect mobile memory solution for media entertainment. As we know the majority of our device time is spent "consuming" media either by playing videos, playing music or playing games. A small portion of that time is dedicated to saving this data which is why the PLAY cards have been created.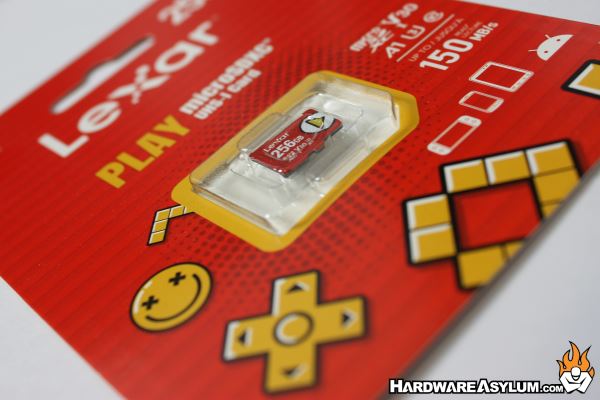 Flash memory solutions are often designed to cater to two basic groups, Retail and Enterprise. While Enterprise solutions are designed for longevity there is more wiggle room in the Retail space. This allows companies to design products that cater to a specific need and price point. For the PLAY cards the desire is to offer a high-speed memory solution that is also available in higher capacities.
The card featured in this review is the 256GB edition which is quite small considering that the PLAY cards top out at 1TB while offering up to 150MB/s read speed and feature all of the good ratings. Class 10, U3, V30 and A2.
Key Features
Compatible with portable gaming devices, smartphones and tablets
Fast transfer speeds for quick loading time with up to 150MB/s read
Store more videos, movies, games, music and your favorite content with large capacity up to 1TB
Quickly captures, plays back and transfers 1080p Full-HD video
Loads apps faster with A1 or A2-rated performance
Five-year lifetime warranty
Lexar PLAY cards will work best in mobile devices and game consoles. The A2 rating will offer the best performance for loading applications and the 150MB/s read is important for accessing stored data including full 1080p video playback. However, the real reason for looking at a PLAY card is the 1TB storage limit available in this series which allows users to capture more data, store more games and watch more video without changing cards, uploading to the cloud or (kringe...) deleting files.