Lexar PLAY microSDXC Review
Author:

Dennis Garcia
Published:
Tuesday, March 9, 2021

Benchmarks and Conclusion
The System as it was Tested
EVGA Z490 FTW – Z490 Chipset
Intel Core i5 10600k (4.1Ghz) Hex Core 6 x 32KB L2 Cache 6 x 256KB L3 Cache 12MB
Thermaltake Water 2.0 Extreme
1x nVidia GTX 1050 Ti
2x Patriot Viper Blackout Edition PC4-34100 16GB DDR4 (19-21-21-41)
Crucial MX500 500GB SSD
HP dvd1260i Multiformat 24x Writer
Thermaltake Toughpower Grand 1050 Watt PSU
Windows 10 Pro 64bit
Storage Tested
Lexar PLAY MicroSDXC 256GB

Reference Storage
Patriot EP Series High Endurance MicroSDXC 128GB
Lexar Professional 1066x microSDXC 256GB
For the benchmarks I have chosen to offer synthetic benchmark results that are repeatable and should provide a good basis for comparison. For an interface I used the Lexar USB 3.1 card reader plugged into a USB 3.2 port on the motherboard. While it would be fun to run PCMark 10 on SD cards it wouldn't offer a realistic result so, we will be sticking to the traditional transfer benchmarks.
SiSoft Sandra
Sandra is a software collection of synthetic benchmarks that will give us a basic idea as to what a system is capable of. It should be noted that SiSoft numbers can change depending on what hardware is being tested. These were recorded using Sandra Professional Version 30.27.2020.1

ATTO Disk Benchmark
ATTO Disk Benchmark is a freeware disk benchmarking utility that can test a variety of storage solutions from single hard drives to multi-level RAID arrays and solid-state disks. The tests can be broken down to transfer sizes between 512B to 64MB with lengths between 64KB and 32GB. Testing results are shown on a transfer chart with reads and writes clearly marked.
For our benchmark the 64MB transfer is being recorded even though the 128k range is often quoted as having the fastest transfer speed (range) of any drive.
I am going to include the benchmarks result below that show that after 64KB the drive tops out and transfers at full speed matching what is reported in the other synthetic tests.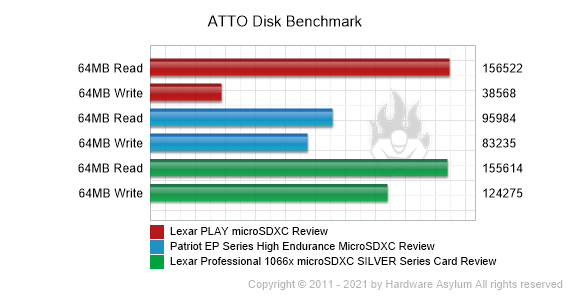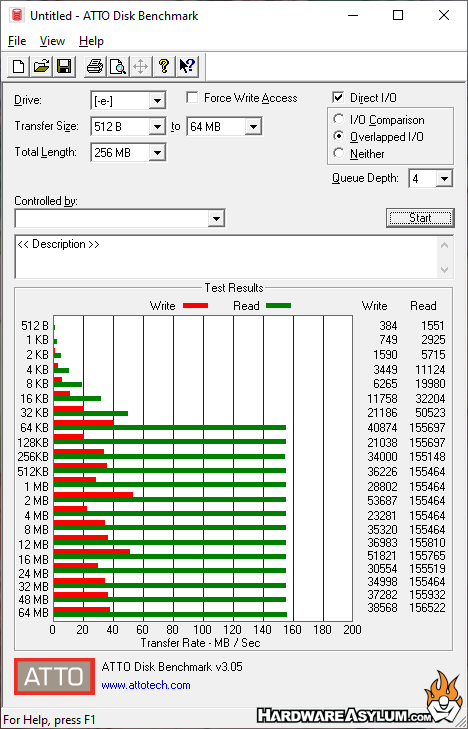 Crystal Disk Mark
Crystal Disk Mark is a widely available disk benchmarking program that can test a variety of different scenarios from Sequential to Random with Multiple and Single queues.
For our tests the Sequential and Random test with multiple queues and threads will be recorded.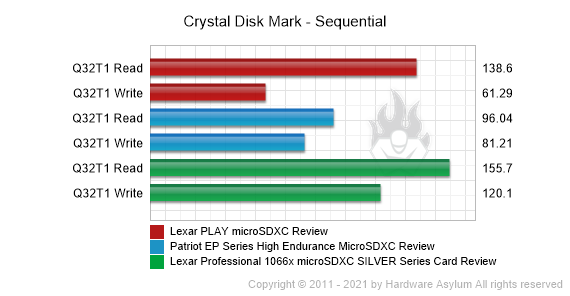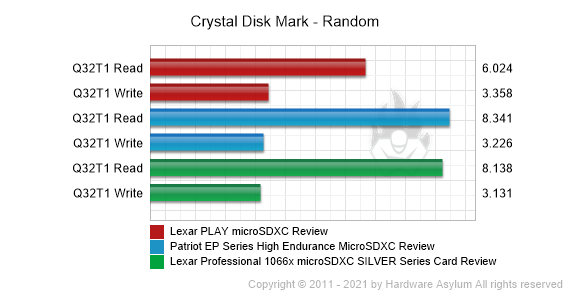 Benchmark Conclusion
External SSD performance depends on a number of factors including cable length, USB chipset and even the type of processor you are using. The Lexar PLAY is a very fast drive and yet suffers from very slow write performance. Considering that this drive is designed for "consuming" data that isn't a bad thing. In fact, having faster reads is important for the user experience.
While the raw write performance is slower than expected when you get to the random writes the performance is on par with our reference storage solutions giving value to the overall performance when saving images, game data and other files as part of the daily ritual. Though I would be lying if the ATTO benchmark results were not a bit scary.
Conclusion
When picking a flash memory card, you need to consider the speed and capacity of the card but also how you intend to use it. In a typical consumer situation where the user will be consuming data either by loading applications, watching movies and listing to music it is important to have a storage card that caters to these tasks. Of course, there are faster cards on the market and at least one of them was featured in this review. However, what many of these cards do not have is a 1TB storage option like found in the PLAY line from Lexar. As they say, storage is king, and with 1TB that is a lot of space to fill up.
Good Things
Super Fast Card
1TB Storage Option
Red Card
Bad Things
Write performance wasn't the best