Lexar Professional SL100 Pro Portable SSD Review
Author:

Darren McCain
Published:
Tuesday, March 10, 2020

Introduction
With storage costs continuing to drop to historic lows there has never been a better time to pick up a portable storage device. Gone are the days of bulky external drives with transfer rates that would make any respectable PC Enthusiast grumble. The new modern external storage solutions are using the latest in USB 3.1 technology combined with high speed SSDs to deliver amazing performance and transfer speeds!
Enter the Lexar Professional SL100 Pro Portable SSD. Small, speedy and affordable? Let's find out!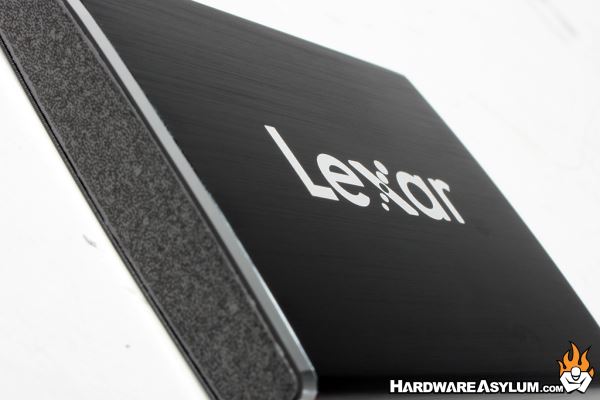 Lexar offers the SL100 portable hard drive in both 500GB and 1TB capacities and feature transfer rates up to 950MB/s read, 900MB/s write when paired with a quality cable and using a USB 3.1 port. The drive comes bundled with dual ended USB Type–C (USB-C) cable and will require either a Type-C or Type-A port on your PC to be used properly.
These drives are finished in an attractive black anodized brushed aluminum finish trimmed with machined edges for some shiny accents. Even the external branding is larger without looking cheap. Overall it's a classy, if petite, little drive that will disappear into your pocket for easy storage.
Features
Superior SSD-level performance, with speeds up to 950MB/s read and 900MB/s write1
Sleek, slimline styling with a premium brushed aluminum finish
Durable, portable design resists harsh temperatures and vibration
Includes 256-bit AES encryption software solution to protect files securely
Features a USB Type-C (USB-C) port, and includes both USB Type-C to Type-C cable and USB Type-C to standard USB Type-A cable
Three-year limited warranty
Specifications
Color: Black
Capacity: 500GB, 1TB
Interface: USB 3.1 Type-C
Speed: Up to 950MB/s read, up to 900MB/s write
System Supported:Mac OSX 10.6+ / Windows 10/7/8
Standard USB (Type-A or Type-C) port
Operating Temperature: 0°C to 70°C
Storage Temperature: -40°C to 85°C
Dimension (W x L x H): 55 x 73.4 x 10.8 mm / 2.165" x 2.89" x 0.425"
Weight: 70.5g / 0.155lbs(Without Cable)
These drives measure in at 2.165" x 2.89" x 0.425" (55 x 73.4 x 10.8 mm) and Uses a UASP (NVM Express 1.2) interface to communicate with your PC. A small activity light on the ported side provides drive status when active.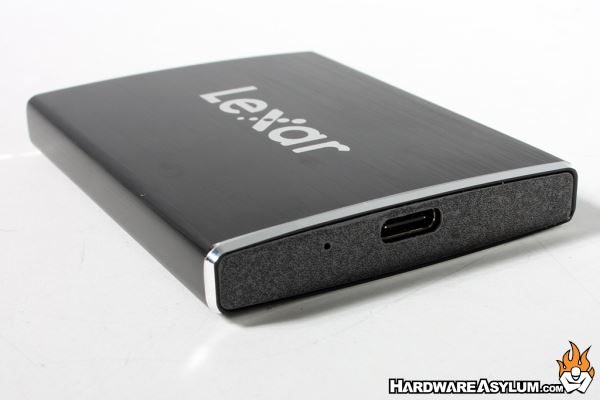 Lexar has tested the SL100 Pro line to ensure class leading durability. The Aluminum exterior protects the internal SSD with fantastic heat and vibration protection. Temperature resistant (0°C to 70° C / 32°F to 158°F) and vibration resistant(10~2000Hz, 1.5mm, 20G, 1 Oct/min, 30min/axis(X,Y,Z)).
Each drive ships with a set of 8 inch cables supporting USB Type-C to Type-C and USB Type-C to standard USB Type-A connections.