Muskin Pilot 1TB Solid State NVMe Drive Review
Author:

Dennis Garcia
Published:
Saturday, February 16, 2019

Conclusion
In this review we took a look at the new Mushkin Pilot NVMe based SSD. The drive is part of a new series of SSDs that are designed to be affordable and match speed and performance with the current Samsung NVMe drives. Something to keep in mind is that while on paper the Pilot might be slower it makes up for it by also being slightly less expensive. The 3D TLC NAND used on the Pilot drive is a bit of a mystery but seems to perform quite well.
The density of the drive is lower than I would have expected. The front of the drive features the Silicon Motion controller and two NAND chips while the reverse features the SLC cache chip and two more NAND chips. That makes each NAND about 256GB and spreads the data transfer across four chips instead of two. Overall spreading the data transfers across four chips combined with a SLC cache module is great for overall performance.
The Mushkin Pilot is where it should be when it comes to specifications. It features a Gen3 x4 M.2 interface, SLC caching, NVMe Deallocate function and L1.2 lower power mode. Documented performance has the Mushkin Pilot 1TB with reads up to 2710 MB/s with writes being slightly slower at 1775 MB/s.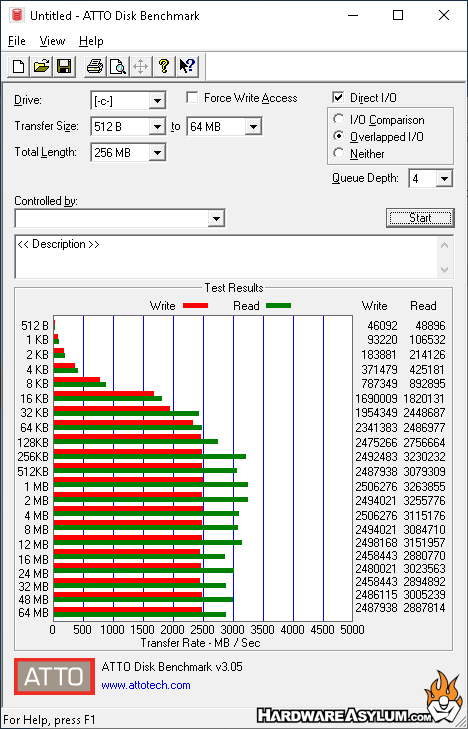 As our benchmarks showed these numbers are quite accurate and representative of the performance you can expect. It is important to note that 128 KB transfers are some of the fastest regions on a SSD and really is the separation point where the drive will stop scaling. We recorded a 24 x 24 GB/s score at 64MB with really encompasses the average transfer speed for this drive overall.
As enthusiasts we all like to speculate on specs and really choose our computer hardware on what has the best performance. Sometimes doing this can pay off like choosing a Core i7 over a Core i5 or picking faster system ram over what might be on sale at Frys. Other times you can spend hours pouring over benchmark results and not find anything that matches the real world performance.
Real world performance is a rather important aspect of storage since it can dictate how responsive your system is and even how fast your maps will load. To test this I use PCMark 10 and BAPco Sysmark 2018 and should be noted that both benchmarks are "full system" tests with no dedicated storage result. As a result the scores will change based on what hardware is installed. For our tests we use the same machine with clean images loaded to the drives for each run.
As you may have noticed even though the Pilot posted higher synthetic scores the real world tests showed a different result.
Form factor and heat were not a concern. The Pilot is a standard 2280 drive and was reasonable when it comes to heat production. I measured 40c during high load tests without a heat spreader and less than 30c using the factory MSI drive cover. As with any NVMe drive it is suggested that you use a heat spreader but that isn't a requirement if your system has ample airflow.
Good Things
Great Performance
Small Form Factor
Super Fast NVMe
Available in Sizes up to 2TB
More Storage Less Cost
Close to Samsung Performance
Bad Things
Take care when removing the drive from the package, it is in there good
The onboard activity LED is hidden when using heatspreaders
Hardware Asylum Rating