Mushkin Triactor 480GB SSD Review
Author:

Dennis Garcia
Published:
Wednesday, November 16, 2016

Introduction
Despite how fast SSDs are and how cheap they have become they are one of the only storage methods that come with a notable shelf life. That isn't to say that rotational drives are perfect either however, they tend to either outlive their usefulness or suffer from a mechanical failure before the platters wear out. SSDs on the other hand suffer from NAND wear that slowly over time will cause the drive to become slower until it fails.
This process happens at a rate which is predictable and largely dependent on which type of NAND is being produced. MLC and TLC NAND is what you will find in consumer SSDs and tend to have faster wear rates than higher quality chips like the SLC NAND found in enterprise drives. MLC and TLC NAND are also slower than SLC leading to the extreme cost difference between the different drive types.
While SSDs offer a variety of benefits the cost of the drive is what "most" people care about and is why you will find a bunch of TLC enabled drives at the lower end of the cost spectrum.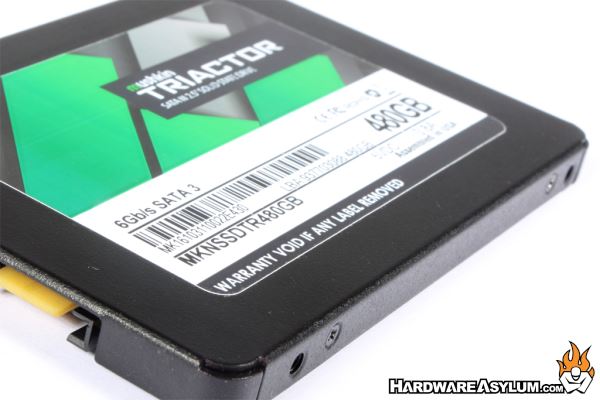 In this review I'll be reviewing the Mushkin Triactor 480GB SSD. On paper this drive offers some amazing performance topping out at 560MB/sec Read and 515MB/sec Write. A SMI SM2256 controller is found on board and is available in sizes starting at 120GB extending up to 960GB. To help increase performance a SLC caching system has been added to boost performance of everyday tasks.
Interestingly enough the 120GB offers the slowest write performance of the series at 380MB/sec and improves significantly as the sizes double. This is likely due to the Mushkin Enhanced Data Protection Suite and how the controller saves data to the NAND.
Mushkin M.E.D.S
Internal flash array provides RAID-like data protection to increase data reliability and endurance
Built-in LDPC ECC provides the strongest data correction level in use today
Data shaping technique increases endurance
StaticDataRefresh ensures data integrity
Early weak block retirement ensures that strongest blocks remain in use
Global wear-leveling evens program and erase counts across blocks to extend drive endurance
The Mushkin Triactor may not be the fastest drive I have tested but is clearly one of the most attractive when you consider cost per gigabyte and the Mushkin 3 year warranty.
Specifications
Capacity: 480GB
Temp. Range: 0-70°C
Read Speed: up to 560MB/sec
Write Speed: up to 515MB/sec
MTBF: 2 million hours
Controller: SMI - SM2256
Interface Type: SATA 3.0 (6Gb/s) interface (backwards compatible with SATA 3Gb/s and 1.5Gb/s)
Warranty: 3 years limited
IOPS: 87,000 (4K random write) / 85,000 (4K random read)
Access Time: <0.1ms