Patriot P200 Performance SSD Review
Author:

Dennis Garcia
Published:
Tuesday, October 15, 2019

Introduction
Over the years SSDs have transformed themselves from a new and uncertain storage medium to the defacto standard when it comes to performance storage options. There is no question that SSD drives are faster and the capacity has been getting better however there is a sweet spot where price, performance and capacity all converge.
In this review I'll be looking at a new Performance SSD from Patriot called the P200. This drive is built on the SATA 6 standard and is available in four sizes from 256GB up to 2TB. As with all SSD drives it is important to find a drive with a good controller matched with wear leveling technology to ensure the longest life for your SSD as this will reflect well on TBW and overall drive performance.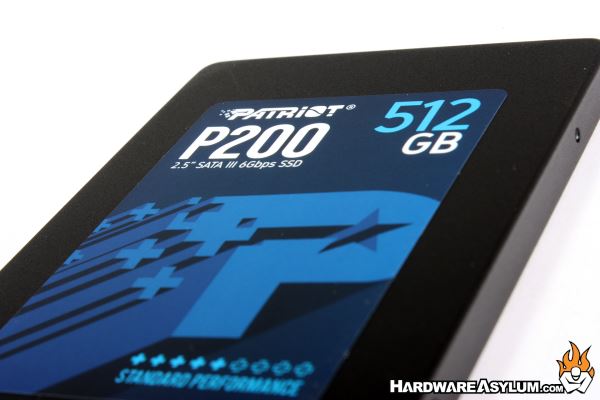 As with most SSDs the intent is to strike a balance between performance and reliability. The Patriot P200 SSDs come with a variety of features to help with that including:
Global wear leveling algorithm, maximizes SSD lifespan
Automatic sleep and wake-up mechanism power saving
Trim Support
Longer life time cycle (TBW)
3 year Limited Warranty
As with most SATA based SSDs there is a limit to the transfer speed and while controller tweaks can squeeze out a little more performance you are limited to the transfer speed of the SATA 6 interface. The P200 features a 530MB/s Read and 460MB/s write with 4k Random Read and Writes at 90K IOPs and 80k IOPs respectively. This is due in part to the SMI 2258XT Series drive controller
Having a SSD die is not how any one wants to spend their weekend but if you do run into drive problems a good warranty can help. Patriot is offering a 3 year limited warranty on their P200 SSDs which would cover up to 320TBW (Terabytes Written) and should be well under the normal usage during the warranty period.
Specifications
Model Part number: P200S512G25
Interface: SATA 6.0Gb/s
Form Factor: 2.5-inch internal SSD
Total Capacity: 512GB
Warranty: 3-year
Sequential Read: Up to 530 MB/s
Sequential Write: Up to 460 MB/s
Random Read IOPS: Up to 90k
Random Write IOPS: Up to 80k
Dimension (W x H x L): 69.85 x 7 x 100 mm