Patriot Trinity 64GB USB 3.1 Flash Drive Review
Author:

Dennis Garcia
Published:
Friday, September 28, 2018

Introduction
By now everyone has a flash drive. Early on they were a handy alternative to floppy disks, CD-Rs and even writable DVDs and have since become the de facto standard when it comes to portable storage. Even though flash drives are everywhere they can often only be used on certain devices. Phones, Tablets and other mobile devices often use flash cards to expand the internal storage leaving the built in USB connection open for data backups and transfers to a PC using a transfer cord. Of course the PC is still dominated by USB Type A making it difficult to transfer data using a Flash drive.
In this review I'll be showing you the Patriot Trinity. This is a 64GB USB 3.1 Flash Drive that supports USB Type-A, USB Micro-B and USB Type-C connector(s) all on the same drive. As of this review the Trinity is available in three capacities 32, 64 and 128GB and features read speeds up to 200MB/s. Of course speeds will depend on a variety of factors including what connector you happen to be using. For the fastest transfer the Patriot Trinity supports the latest USB 3.1 specification and is backwards compatible with USB 3.0, 2.0 and 1.1 specifications.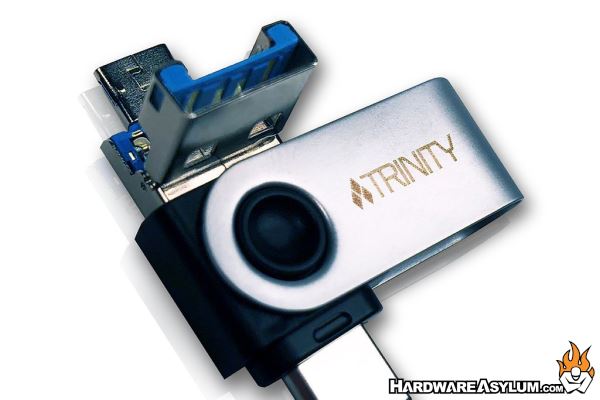 The Patriot Trinity features a black plastic shell protected by a silver metal cover that will swing around the drive to cover the end of the drive that isn't being used. When the drive is in transport mode a plastic cap will cover the Type-C connection allowing the swing cover to protect the Type-A.
Built into the USB Type A connection you will find a Mini-B that can be exposed by flipping part of the Type A connector away. The connector is held together quite well and requires some effort to separate them.
Flipping the drive around exposes the Type-C connection which is quickly starting to become the standard for all mobile devices.
Shown here is the ASUS TUF Z370 with an onboard USB 3.1 Type C and Type A connection.
In terms of testing there isn't much to say. The drive is super fast and works on mobile devices with either a USB Type C or Type B connector and will transfer data to and from any machine with a USB port. If your PC has support for USB 3.1 the data transfer will be even faster making it a perfect match for large file transfers typical of video and digital photography.
The drive is extremely small making it a perfect candidate for getting lost in the couch or car seat so be sure to invest in some sort of keyring. It will have to be a small one given that the hole for the ring is almost non-existent. Despite this the metal cover does features friction tabs to keep the cover in place. The cap over the USB Type-C connector is also quite good and not easily dislodged and the combined USB Type A and Type B connector works surprisingly well.
Overall if you are looking for the ultimate flash drive for cross platform data transfers look no further than the Patriot Trinity. It has the storage, the speed and connections required all in a single lightweight package and isn't all that expensive.