SilverStone ECM22 M.2 to PCIe Expansion Card Review
Author:

Dennis Garcia
Published:
Thursday, February 08, 2018

Introduction
Let's face it SSDs have become the defacto storage platform for almost every type of computer. Gaming PCs have them to load games and maps quicker, workstations have them for fast load times and memory caching and servers are using them cause, well, speed is a good thing. The challenge comes when you realize to get the fastest SSDs you need to use NVMe M.2 drives and don't have the appropriate slot on your motherboard.
In this review I'll be looking at two companion products from SilverStone. The ECM22 M.2 to PCIe Expansion card and the TP01-M2 SSD thermal pad. You buy these separately and work quite well together.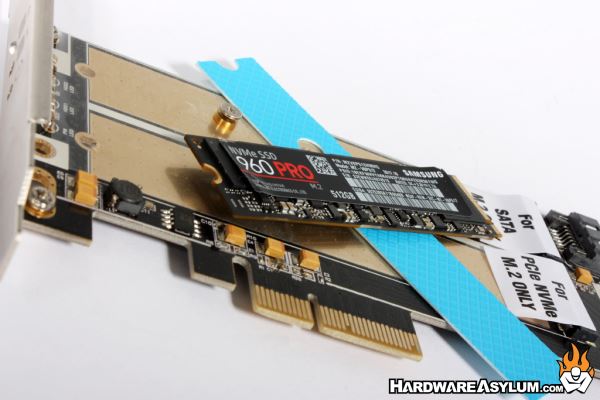 What is the ECM22? This is a very unique expansion card that supports two M.2 drives with exposed gold inlays for additional cooling. The top drive supports M.2 B-Key drives that require a SATA interface. The bottom drive supports M.2 M-Key drives and interfaces directly with the 4x PCI Express slot.
Both drives draw power from the PCI Express bus and each drive position will support SSDs up to 110mm in length. You do get a low profile bracket and along the expansion slot you'll find power and activity lights for each drive on the card.
Operation of the SilverStone ECM22 is pretty straight forward and has no real performance advantages over using an onboard M.2. The interface is still 4x PCI Express and SATA has its own limitations. What the ECM22 does provide is an easy way to install more drives than what your motherboard currently supports and/or drives that may not otherwise fit due to being the wrong key or wrong size.
One major advantage to using the ECM22 is heat. Standard SATA based SSDs don't generate that much heat and is why you hear reports that many SSD heatsinks actually trap more heat than they dissipate. The same is true for PCI Express based SSDs, the interface makes the drive faster than SATA but slower than NVMe.
Now, NVMe drives tend to get pretty hot when accessed over an extended period of time. In certain situations this can lead to premature drive failure and random corruption. One way to reduce this is with heatsinks and thermal pads. The SilverStone TP01-M2 is a M.2 SSD silicon based thermal pad. The package comes with two pads with different thicknesses. For drives with chips on both sides you'll want to use the thin pad while drives, like the Samsung 960 Pro 512GB will require the thicker one.
Installation is easy. Simply peel the plastic covers and place the pad down on the ECM22.
Install your M.2 drive and if need be trim away the excess. They come pre-cut so it really is just a tear away. Of course be sure to check that proper contact is being made and you are done.
Testing
As I mentioned the SilverStone ECM22 has no real performance advantages other than reducing heat. To stage this test I ran Crystal Disk Mark twice and monitored the temperatures. The photo shows the peek surface temperature of the NAND and reflects the difference between running the drive open on a motherboard vs installed in the ECM22 with a TP01-M2 thermal pad.
65c vs 49c is a 16c degree delta and really quite impressive for simply installing a thermal pad on an expansion card. It should be noted that the controller located near the M.2 connector hard recorded temperatures in excess of 70c and would often spike at the same time as the NAND.
Conclusion
The SilverStone ECM22 is a really simple product with a wide range of applications with the obvious being systems that don't support M.2 SSDs. Given the prevalence to keep computers longer than you should there is still a good number in service that were pre M.2 SSD. For these systems a card like the SilverStone ECM22 is a perfect upgrade and allows you the ability to run NVMe with ease. Another option would be for systems with limited M.2 slots where you might have one but really need two. Install a ECM22 and away you go.
Of course the real benefit is controlling thermals when using the SilverStone ECM22 with the TP01-M2 thermal pads. When used together I saw a 16c drop in load temps and faster recovery time when idle. This sort of thermal control isn't possible on motherboard mounted drives despite some motherboards including M.2 heatspreaders.