SilverStone ECU06 and ECU07 SuperSpeed USB 3.2 Internal Expansion Card Review
Author:

Dennis Garcia
Published:
Tuesday, May 18, 2021

Introduction
One of the guiding principles of motherboards and the PC in general is "expandability". Early computers and motherboards didn't come with much onboard so if you wanted something you often bought an expansion card to enable that feature. This gave users a nearly limitless level of configuration that defined how we use PCs today.
In this review we will be looking at two SuperSpeed USB 3.2 Expansion cards from SilverStone. Both cards are very similar but offer different connection types for very different uses.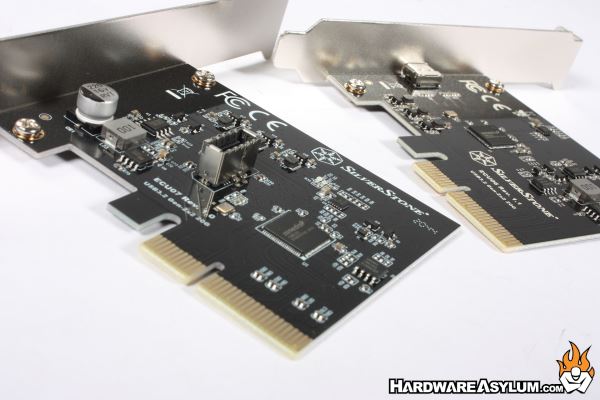 The ECU06 is a SuperSpeed USB expansion card offering a single USB 3.2 Gen-2x2 20Gbps Type-C connection.
The ECU07 is a SuperSpeed USB expansion card offering a single internal USB 3.2 Gen-2x2 20Gbps Type-C Key-A connector.
Aside from the available ports the underlying specifications are the same making either one a great drop-in upgrade.
Specifications
Model No.: SST-ECU06 / SST-ECU07
Power requirement: PCI Express bus power
Form factor: Low profile – PCI Express Gen 3 x4 (32GT/s)
USB Ports: USB 3.2 Gen 2x2 Type-C port. / Internal USB 3.2 Gen 2x2 Type-C Key-A connector
USB 3.2 controller: ASMedia ASM3242
Transmitting Speed: USB 3.2 Gen 2x2 (20Gbps), USB 3.2 Gen 2x1 (10Gbps), USB 3.2 Gen 1 (5Gbps), USB 2.0 (480Mbps), USB 1.1 (12Mbps)
Operating system support: Windows 8-10, Windows Server 2016-2019, Mac10.X, Linux OS* in-box xHCI driver natively support UASP, no additional driver required
Power Management Support: USB 3.2 and USB 2.0 link power management
Extra: UASP and Multiple INs function
Current protection: Support over current detection
Operation Temperature: Operating temperature range: 0 ~ 85 ºC
Storage temperature range: -20 ~ +70 ºC
Humidity range: 5 ~ 95% RH
Net weight: 47g
Dimension: 123mm(W) x 21mm(H) x 105mm(D) / 4.84" (W) x 0.83" (H) x 4.13" (D)
Most modern motherboards come with a USB SuperSpeed port but you would be surprised at how many do not or only come with a single connection. This is where the ECU06 can be beneficial by offering you an additional USB Type-C connection provided you have a spare PCI Express 4x or greater expansion slot available.
The ECU07 can be used in instances where your case might come with a USB 3.2 Gen 2 header but, your motherboard does not OR, if you want to add an additional Gen 2 port to the front of your case. This functionally is somewhat limited given that the card has no external component but, offers a unique chance to add as second Type-C Key-A connector when needed.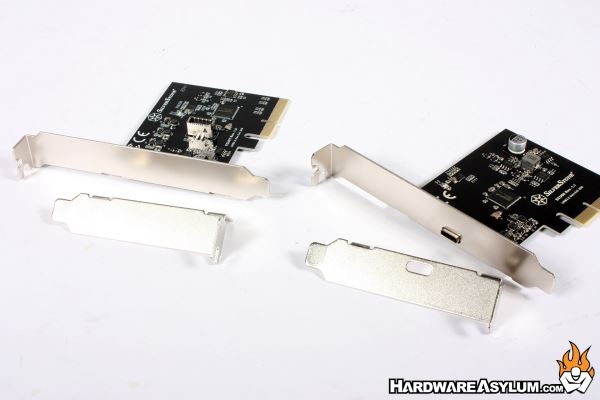 Both cards are a driverless install and come with low profile brackets allowing the cards to be installed into low profile and small form factor machines.
Testing
For testing I am using the ASUS Maximus XII Hero with an Intel Core i9 10900k processor on the latest version of Windows 10. The motherboard comes with a number of SuperSpeed USB ports and I wanted to see how adding a dedicated card would be interpreted by the system.
The card was silently installed and ready to use by the time I got to the desktop. To ensure consistent results I'm using the new SilverStone MS12 external Type-C to NVMe M.2 SSD enclosure and a Mushkin Pilot 1TB NVMe drive.
I ran the drive on both the SST-ECU06 and the onboard SuperSpeed port and the results are below.
SiSoft Sandra

Crystal Disk Mark


Conclusion
The SilverStone ECU06 and ECU07 are two very unique products that fill a very specific niche in the PC world. For the most part every "new" motherboard on the market comes with a SuperSpeed USB port but, as users attempt to get more usable life out of their builds the gaps in supported technology tend to get bigger. This is where products like the ECU06 and ECU07 can help users get more from the builds by adding SuperSpeed USB 3.2 Gen-2x2 support to any PC with a supported operating system and a free PCI express 4x or larger expansion slot.
In terms of performance the ECU06 and ECU07 did not disappoint and worked flawless on our test system while offering some amazing transfer speeds when matched with the SilverStone MS12 External NVMe SSD Enclosure. Of course, the expansion cards work with all types of USB devices and comes with a standard and low profile slot cover brackets to give you even more installation options.