Diamond GC1000 HD 1080 Game Console Video Capture Device Review
Author:

Darren McCain
Published:
Monday, August 04, 2014

Introduction
The rise of video sharing sites like YouTube and Twitch has created a huge new venue for sharing captured video and gaming sessions. What's more effective than chronicling your latest boss run in full HD video and sharing it with your clan? Diamond Multimedia aims to make this process easy with their latest Game capture device; the DIAMOND USB 2.0 GC1000 HD 1080 Game Console Video Capture Device.
With the GC1000 diamond hopes to provide an easy to use external device to capture video directly and share with YouTube or Facebook at the touch of a button. One touch HD video via USB 2.0 sounds fantastic to me! Let's take a closer look.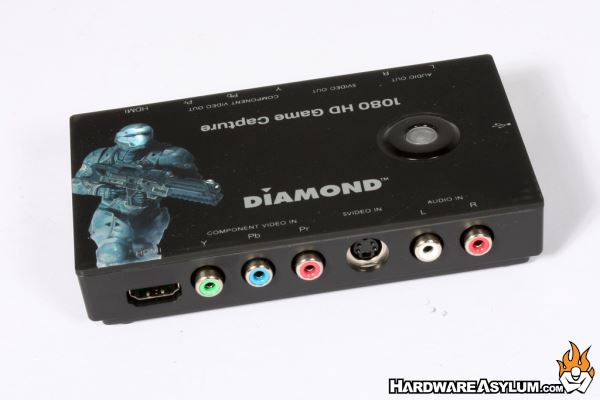 The GC1000 is an external box measuring in at 5.5 x 3.5 x 1.0 inches with a look that reminds me of some of the early external video card adapters. A generic FPS style character and a large blue power indicator provide the only decoration. Power is provided by the single USB 2.0 connection keeping the overall footprint small. There is no HDMI support provided out of the box.
Specifications
Operating System : WIN 8, WIN 7 32 , WIN 7 64, WINVISTA32 , WINVISTA64, WINXP , WINXP64, MCE
System CPU : Pentium-IV 1.6GHz or higher (recommended)
CPU Speed : 1.6GHz
System Memory : 256MB
Power Supply : None
Power Supply Instructions : 1GB Free HD Space Sound Card (AC97 compatible sound card)
Hard Disk Space : 1G Free Space
CD DVD : YES
BUS : USB 2.0
Monitor : Digital flat-panel (DFP) displays or DVI-I Compatilbe or digital CRT display or High-resolution VGA monitor
Most popular video capture devices are designed as internal PCI cards. Small external devices like this are very promising since they can hook into a variety of systems. Because of this external media players and game consoles appear to be the primary target for the GC1000.