MSI Godlike and Lightning are Back at CES 2018
Author:

Dennis Garcia
Published:
Wednesday, January 24, 2018

Introduction
It is not often that two of your favorite products are given CES innovation awards. Well it happened at the MSI ballroom with several products and some notables being the MSI GTX 1080 Ti Lightning and MSI Z370 Godlike Gaming. Both of these products have some history in the enthusiast market with the Lightning being a premiere overclocking video card while the Godlike Gaming helped to usher in the RGB LED craze.
Like most motherboard makers the products on display were shown at Computex however the MSI Optix MPG series gaming monitor was new and had some pretty amazing features. Starting with the base specs this is a 27" curved gaming monitor with 144hz refresh and 1ms response time. (fast) There are two resolutions. MPG27CQ is a 1440p WQHD panel while the MPG27C is a 1080p panel. The MPG27CQ won the innovation award for obvious reasons (higher resolution, 1080p is sooooo last year)
One of the other exciting features is the SteelSeries GameSense built in. This system is using five RGB zones on the front of the monitor that can be programmed using the SteelSeries Engine to give you visual feedback of what is happening in your game or anything else you want to keep track of.
Of course having these lights on the front is helpful but this panel comes with them on the back too so people watching you can share in the experience.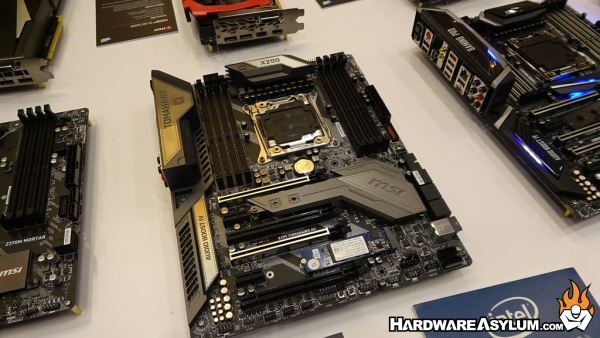 Finally, and for no particular reason, here is a photo of the MSI X299 Tomahawk AC. This is by far one of the most well rounded X299 in the MSI lineup and now features some pretty cool metal badges.