Hardware Asylum at Hackfort 2021
Author:

Dennis Garcia
Published:
Sunday, October 10, 2021

Introduction
With the "situation" causing a global shutdown that impacted most of the world during 2020 the annual Boise Treefort Festival was postponed from March 2020 to September 2020 and then ultimately rescheduled until September 2021 in hopes that things would improve. The show reopened with a limited capacity and went off with out any major issues showing that with proper planning you can host major event like Treefort Festival without too many issues.
While the Treefort Music Festival is dedicated to "Music" there are a number of other events going on at the same time that they call "Forts". Some prime examples would be YogaFort, AleFort and Hackfort among others.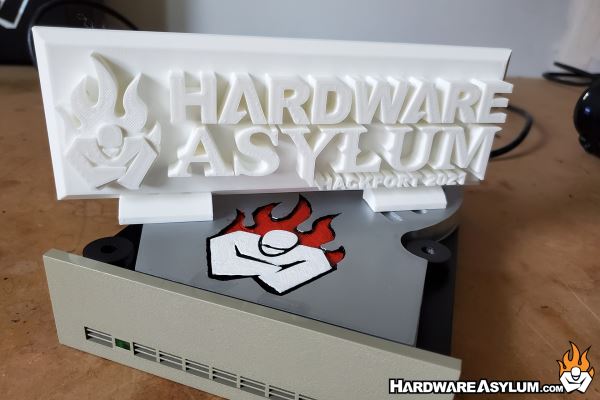 Hardware Asylum was again presenting at Hackfort and decided to take a different approach from what we did during Hackfort 2019 and planted ourselves behind a table to show off some really cool things you can do with computers.
LN2 Overclocking
The primary reason for being at Hackfort is to show off what you can do with LN2 when it comes to overclocking. For those who are unaware you can use LN2 (Liquid Nitrogen) to cool computer components and make overclocking easier while attaining speeds that you wouldn't be able to hit using normal cooling methods. LN2 is how speed and benchmarking records are set and the whole process is pretty amazing to watch.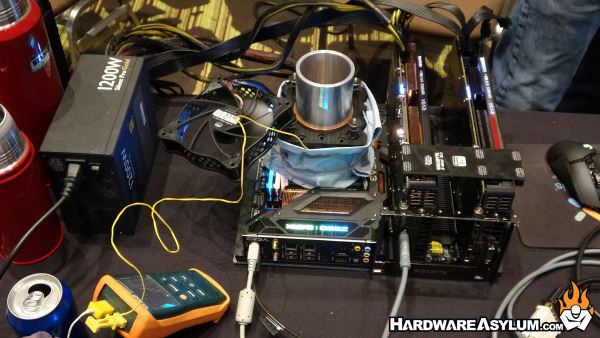 Most overclocking rigs are designed with a goal in mind. For most they might try to hit a CPU record in which case the type of video card you use doesn't matter much. If you are attempting a GPU based record then you need to consider the entire system.
For Hackfort it was decided to put on a show with a stretch goal of setting a few personal bests and, if things go well, maybe aim for a gold cup.
The rig was as follows:
EVGA Z590 Dark
Intel Core i9 11900K
GSKill TridentZ RGB 4133Mhz
Patriot Viper VP4300
VIdeo
EVGA GTX 980 Ti Classified
EVGA GTX 980 Ti Kingpin
Cooling
Beast Pot
For the demonstration the LN2 rig was setup in a dual monitor configuration. To make things easy I used an HDMI splitter allowing me to dedicate a single video connection and then duplicate it across two monitors. That way I could see what I'm doing and others could watch the benchmark run and see the final score.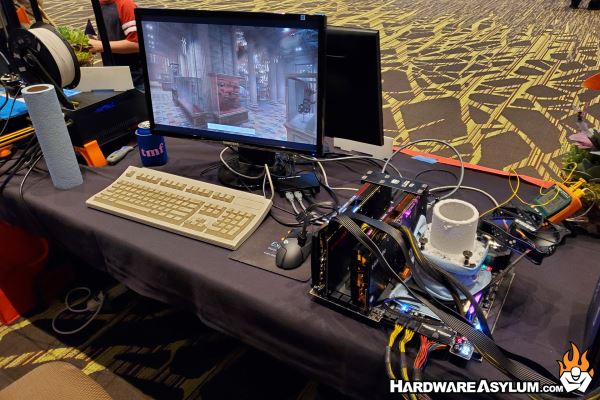 Benchmarks consisted of
3DMark 06 – This is a great system benchmark that responds well to CPU overclocking with only a minor demand for modern day GPUs
3DMark Firestrike – This is one of my favorite benchmarks and if you are running it correctly you are overclocking both the CPU and GPU with a preference for LN2 to get the best scores
3DMark Time Spy – I ran this one just for fun even though it seems to be the current litmus for performance tuning.
Cinebench R20 – This is a great CPU benchmark that I used to test my CPU benchmark stability. Generally speaking, if the overclock can complete a R20 session it is likely good enough for 3DMark and other 3D benchmarks.
Unigne Heaven – I had no intention of running this benchmark for score however, it is a pretty benchmark to watch and easy to run making it perfect for a booth demonstration.
Results
Despite Hackfort only running at limited capacity there was a steady stream of people coming in to check out the expo floor and attend some of the talks. Due to this I spent very little time tuning my overclocks but can say without any effort my Core i9 11900K ran great at 5.8Ghz with minimal voltage and -80C on the container
When I got the system back into the Hardware Asylum Labs I started pushing the limits and could hit 6.5Ghz and was able to run that clock in LN2 mode with a full pot of LN2. (Full Pot = The Liquid Nitrogen no longer turns to a gas right away and will instead just boil in the container indicating that we have hit the lowest temperature possible.)
3D Printing
Earlier in the week there was a talk on 3D Printing and in a smart move on my part we decided to bring out a 3D Printer and print a Hardware Asylum / Hackfort 2021 desk sign and to help explain how the "Restro Mod" hard drive project was.
Our printer is a heavily modified Crealtiy CR-10S with a mix of custom 3D Printed upgrades and repurposed parts all to increase print quality and reduce vibration.
The hard drive enclosure is modeled after a Microscience HH-1050 MFM hard drive and printed with PLA. Inside the drive you'll find a SATA to IDE adapter that allows you to run modern SATA Based SSDs on Retro PCs with only an IDE controller.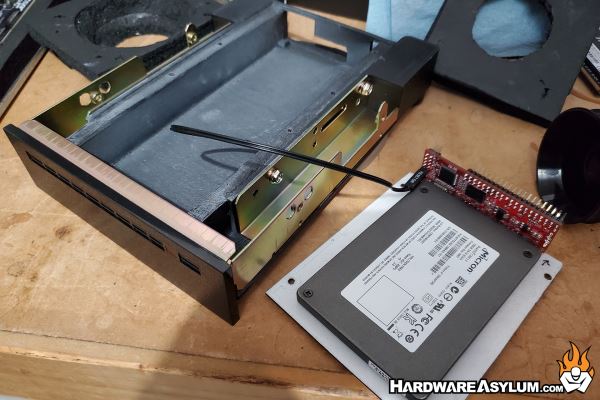 To complete the mod the IDE adapter was modified to output an LED Activity signal and the whole thing was placed in a 3.5" to 5.25" HDD adapter complete with an HDD faceplate and activity LED. Be sure to look for the full project write up and video on our YouTube channel.
Laser Engraving
Darren loves to show off his custom builds and this rig is no exception. We put this together about a month before Hackfort to show off what you can do with custom PC builds along with showing off some new Laser Engraving techniques that you can do on tempered glass.
The new build has an amazing spec sheet including
Phanteks Eclipse P500A DRGB
ASUS Maximus XII Formula
Intel Core i9 10800K
MSI RTX 2070 Gaming – With Custom ARGB Backplate
EK Quantum Momentum VRM Bridge
EK Quantum Kinetic FLT 240
EK Quantium CPU Block
EK 360mm Radiator
Full PETG Hardline
Thermaltake Compression Fittings
Thermaltake C1000 Clear
Cooler Master 120mm SickleFlow ARGB Fans
Phanteks 140mm ARGB Fans
If you are looking for Laser Engraving on your Tempered Glass side panels check out … on Facebook
Thanks
I would like to take this opportunity to thank the organizers of Hackfort for inviting me back to Hackfort 2021 and am looking forward to spicing things up for Hackfort 2022 in the Spring.