Hardware Asylum at HackFort 2019
Author:

Dennis Garcia
Published:
Wednesday, March 27, 2019

Introduction
March 2019 has been a busy month for Hardware Asylum and it all started with an idea. Well, more than that, it started with doing something I love and actually being me. You see, since 2016 Hardware Asylum has been supporting a local LAN party called The Boise LAN. Both Darren and myself love LAN parities. I have hosted them in Ninjalane building 2 (aka the garage) and Darren was part of The Boise FragFest back in the day which was a 300+ person LAN that attracted gamers from all over the Northwest.
As part of the Hardware Asylum support of The Boise LAN I would contribute prizes to be given away and would also host some sort of demonstration. The first demo was actually a major prize giveaway to promote the Hardware Asylum Podcast. After that I did an Extreme Overclocking demo using Dry Ice (DICE) and was an instant hit. One of the most extreme demos was a 3-way SLI overclock using EVGA GTX 780 Classified Hydro cards. While the cards were watercooled the CPU was cooled under my SS Phase and while extreme in nature it was also very power hungry and tripped the breaker several times. Not exactly what you want to have happen at a LAN Party.
It was around then that I decided it was best to keep things simple and do some overclocking with Liquid Nitrogen (LN2). I say simple but LN2 overclocking is an acquired skill with a rather steep learning curve. Lucky for me I had a really great teacher and figured out the rest on my own.
During the fall Boise LAN 8.0 I was LN2 overclocking a Core i7 7740X on the ASUS RAMPAGE VI Apex and matched that system up with an EVGA GTX 780 Ti Classified KPE and was running 3DMark on the bigscreen so everyone could see. I even challenged some of the LAN party attendees claiming that my 780Ti could beat their system in 3DMark Firestrike.
I won of course
Little did I know that my bit of fun at The Boise LAN would lead to an invite to show Extreme Overclocking at Hackfort 2019.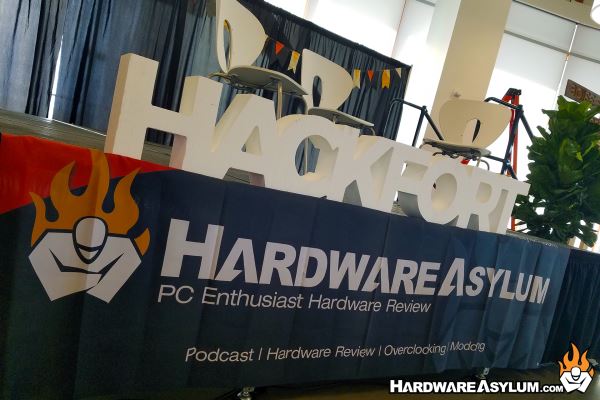 Hackfort is a tech conference which is part of the larger Treefort Music Fest in Boise Idaho and typically takes place shortly after South by Southwest. It works out as a great way to give traveling bands another venue to play while they are in the area. It also gives Boise a way to attract local businesses to participate in many of the other "Forts" such as
Alefort
Comedyfort
Filmfort
Foodfort
Hackfort
Kidfort
Storyfort
Yogafort
Needless to say I agreed and suggested that we make the whole experience a little more inviting and suggested doing a panel where I would talk about Custom Computers and Overclocking as a primer to the extreme overclocking demo.
From there the stage had been set so it was time for me to deliver.