Hardware Asylum at HackFort 2019
Author:

Dennis Garcia
Published:
Wednesday, March 27, 2019

The Hackfort Builds
Given that The Boise LAN 9.0 was the weekend before Hackfort I decided to start with my LAN Party build. Darren would say I'm just showing off but I put together a custom rig for every LAN Party so I can leave my main 24/7 rig at home. For me, it makes the process easier and if I have the gear available then why not.

Normally my rig is pretty tame featuring a 5960X and some fancy EVGA Classified card that jumps out at me from the hardware library. However, this year I decided to dial it up a notch with the intent of generating a WOW factor.
In the current hardware world that means RGB LEDs!
The Complete LAN Build
Cooler Master Mastercase Maker 5t
Aorus Z390 Xtreme Waterforce Motherboard
Intel Core i7 8700k
Ballistix Tactical Tracer Memory
HyperX Fury RGB SSD
EVGA GTX 1080 Classified
Silverstone Strider ST 1500-TI
XSPC D5 Photon 170 Reservoir V2 /w D5 Pump
XSPC 7/16" ID, 5/8" OD Compression Fittings
Tygon E-3603 7/16" ID Tubing
Alphacool 240 Radiator
2x Noctua AF-A12x25 120mm Fans (on Radiator)
Silverstone LSB02 Multifunction RGB Control Box
3x Silverstone AP142-ARGB 140mm Air Channeling Fans
3X Silverstone LS03 ARGB light strips
I must say for a 100% off the shelf PC build it turned out amazing!
Darren brought the Core X31 custom build. The water loop has changed slightly since the original project article but from a hardware standpoint is basically the same.
While both builds are watercooled they really do represent polar opposites of a custom PC build. On one side you have a fully custom PC Mod with every component being changed from the waterblocks on the video card and CPU to the CableMOD cables and custom automotive pearl paint applied to the Thermaltake case. Even the hardline tubing had to be custom bent to fit and would only work on this build in this configuration.
My build, on the other hand, is also watercooled but not a single component was custom made, everything can be bought off the shelf and assembled completely without any modification. That is, except for cutting the Tygon tubing but, that is to be expected.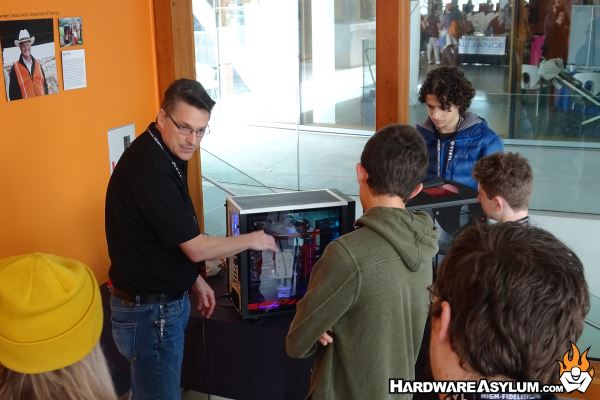 Both of the builds were extremely popular during the event. After our panel discussion the audience were allowed to come up and check them out.
The LN2 Overclocking Build
The star of the show is the overclocking rig and features
MSI MEG Z390 ACE Motherboard
Core i9 9900K
Ballistix Elite Memory
Crucial P1 NVMe SSD
Gigabyte GTX 1050 Ti G1
Thermaltake Toughpower Grand 1050W PSU (I've had this PSU working on my test bench for over 8 years!)
Custom Hardware Asylum Force benchtable
Gigbyte OC Brace
Beast LN2 Pot
Ryba Slim video card LN2 pot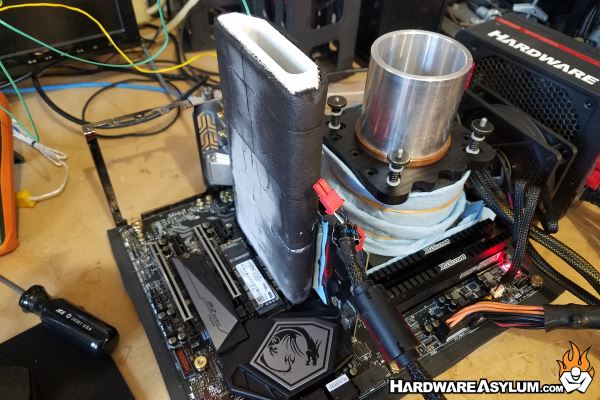 This rig ran flawless for two weeks at 6.16Ghz with the GTX 1050 Ti enjoying life at 2025Mhz or around 100Mhz more than the top aircooled clock. Sadly Pascal GPUs are voltage and current limited so while I believe the GPU could go much faster it would have required a VRM mod to get the most from it.
For the purpose of the Hackfort demo it was more impressive to show me cooling the card than trying to explain complex hardware modifications just to get 200 to 300Mhz more from it.