Crucial P1 1000GB NVMe M.2 SSD Review
Author:

Dennis Garcia
Published:
Friday, October 19, 2018

Introduction
The biggest limitation to storage performance is the interface. Some can argue that the device itself can be slow or fast but, even the fastest device will be bottlenecked if it cannot transfer data quickly enough. This is on reason why RAID was an important feature back in the day and why PCI Express based SSD have become a faster alternative over SATA based drives. However if you happened to catch the Hardware Asylum Podcast episode about SSDs you'll know that even M.2 drives can be slow because they are actually a SATA drive on a different form factor.
In this review I'll be going over the Crucial P1. The P1 is a new drive from Crucial that has combined the Micron QLC NAND technology with a NVMe PCI Express based controller. The drive is M.2 form factor and comes in capacities of 500GB and 1000GB with sequential read/write speeds up to 2,000/1,700 MB/s. The P1 provides performance through hybrid-dynamic write acceleration and a unique SLC cache implementation. The Crucial P1 SSD leverages Micron quad-level cell (QLC) NAND technology and narrows the affordability gap between hard drives and flash storage, enabling increased speeds and capacities at a more affordable price point.
This is a first of its kind for Crucial where they are finally putting the Micron NAND on an interface that can utilize its speed and doing so in an affordable manner.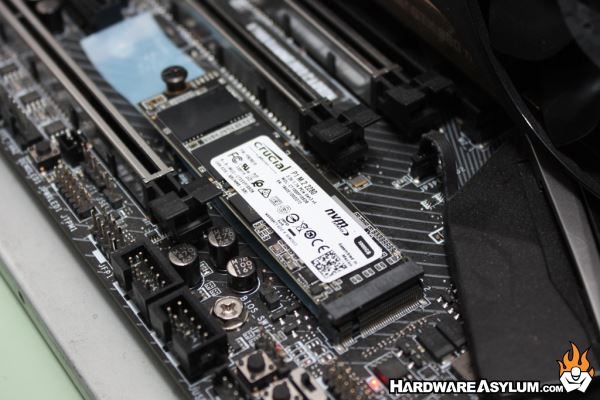 Several years ago Intel launched two Enterprise SSDs using NMVe. These drives had become an instant success from their synchronous reads alone and has since gotten everyone excited to be on the NVMe train. The real issue was getting drives to market and while several companies had M.2 drives they were often using SATA based controllers making them no faster than a traditional 2.5" SSD.
NVMe or Non-Volatile Memory Express is a SSD specification for drives connected directly to the PCI Express bus. They work much like a standard SSD but take advantage of low latency parallelism of PCI Express and allow the SSD drives to move data extremely fast by splitting the transfer over different paths.
The thing to keep in mind is that NVMe is simply a specification with some real benefits to how storage is handled. SATA and IDE were specifications designed for rotational drives and worked well with the limitations of the traditional HDD. While the interface works on SSDs the interface has proven to be inadequate for Solid State Drives and needed to be updated. Sadly some technologies are slow to grow and NVMe happens to be one of them.
The P1 advanced features include
Data loss protection via the Multistep Data Integrity Algorithm
Protection from overheating via Adaptive Thermal Monitoring tools
Faster writes via Hybrid-Dynamic Write Acceleration technology
Data protection at the component level via Redundant Array of Independent NAND
Product Specifications
Brand Crucial
Form Factor M.2 Type 2280
Total Capacity 1000GB
Warranty Limited 5-year
Specs 1TB M.2 SSD • PCIe NVMe Gen 3 • 2,000 MB/s Read, 1,700 MB/s Write
Series P1
Product Line Client SSD
Interface NVMe/PCIe Gen3 x4
Device Type Internal Solid State Drive
Unit Height 22mm x 80mm
Form Factor M.2
Package Content M.2 SSD PCIe NVMe Gen 3, Acronis True Image for Crucial cloning software and installation instructions