HyperX Fury RGB 480GB SSD Review
Author:

Dennis Garcia
Published:
Thursday, November 15, 2018

Introduction
The really crazy thing about computer hardware is that sometimes it takes awhile to get a product launched. That isn't a knock against any vendor or the industry it is just how things go. We first saw this SSD during CES 2018 and thought it was one of the coolest things there. Not so much that was a HyperX SSD but rather a quality HyperX SSD with RGB LEDs. We talked about this drive and other RGB LED products on the Hardware Asylum Podcast Episode 92 so be sure to give it a listen.
In this review we will be looking at the HyperX Gaming Fury RGB SSD. This drive is the 480GB model and as the name suggests it features RGB lights. HyperX has been known to build some really amazing SSDs and is one of the only, if THE only, memory manufacturer to actually use a quality shell over the SSD board. As I have mentioned in the past HyperX builds their SSDs from cast and machined aluminum parts that not only give the drive plenty of curb appeal but the feeling of quality in your hand.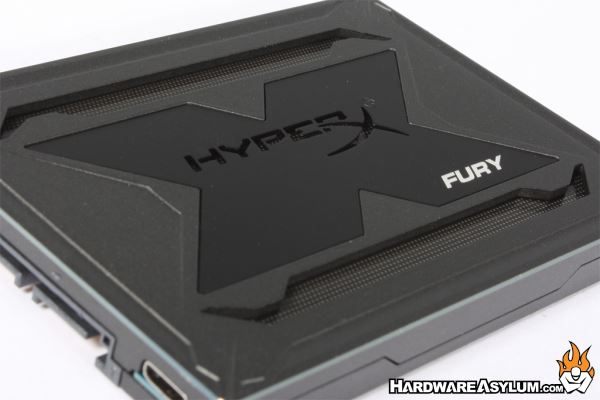 Unlike most SSD reviews that focus on speed or features the Fury RGB is designed to be shown. In the paraphrased words of HyperX the Fury RGB isn't a performance hard drive and is designed to compliment system builds using RGB.
As a hardware enthusiast I understand the differences and can also realize that what one company may consider a performance product might be a mid-market consumer grade part at another. There is no real consistency especially when creative market messages get in the way.
Given that I tell people that specs are the ultimate decider when it comes to computer hardware lets go down the list.
Specifications
Interface 2.5"
Interface SATA Rev. 3.0 (6Gb/s) – with backwards compatibility to SATA Rev. 2.0 (3Gb/s)
Capacities 240GB, 480GB, 960GB
Controller Marvell 88SS1074
NAND 3D TLC
Sequential Read/Write 240GB-960GB — up to 550/480MB/s
Power Consumption 0.2W Idle / 0.6W Avg / 1.2W (MAX) Read / 2.5 W (MAX) Write
Dimensions 100.14mm x 69.85mm x 9.5mm
Operating temperature 0°C~70°C
Storage temperature -40°C~85°C
Weight 165g
Vibration operating 2.17G Peak (7–800Hz)
Vibration non-operating 20G Peak (10–2000Hz)
Life expectancy 1 million hours MTBF
Warranty/support Limited 3-year warranty with free technical support
I'm no expert on all things SSD but from the specs alone the HyperX Fury looks to be a pretty rocking SSD and that is even before you consider that it also lights up and will sync with your current RGB LED system and any other HyperX Fury RGB drives you might have.