HyperX Fury RGB 480GB SSD Review
Author:

Dennis Garcia
Published:
Thursday, November 15, 2018

Benchmarks
SiSoft Sandra
Sandra is a software collection of synthetic benchmarks that will give us a basic idea as to what a system is capable of. It should be noted that SiSoft numbers can change depending on what hardware is being tested. These were recorded using Sandra Professional Version 28.28.2018.9

ATTO Disk Benchmark
ATTO Disk Benchmark is a freeware disk benchmarking utility that can test a variety of storage solutions from single hard drives to multi level RAID arrays and solid state disks. The tests can be broken down to transfer sizes between 512B to 64MB with lengths between 64KB and 32GB. Testing results are shown on a transfer chart with reads and writes clearly marked.
For our benchmark the 64MB transfer is being recorded even though the 128k range is often quoted as having the fastest transfer speed (range) of any drive.

Crystal Disk Mark
Crystal Disk Mark is a widely available disk benchmarking program that can test a variety of different scenarios from Sequential to Random with Multiple and Single queues.
For our tests the Sequential and Random test with multiple queues and threads will be recorded.


Futuremark PCMark 10
PCMark 10 is an overall system benchmark to measure and compare PC performance using real-world tasks and applications. Similar to 3DMark this new version tests the entire system as a whole using applications that reflect typical PC use in the home and at the office. This approach ensures that PCMark measures the things that matter, highlighting performance differences that will be apparent to end users and consumers.

BAPCo SYSmark 2018
SYSmark 2018 is an application-based benchmark that reflects usage patterns of business users in the areas of Productivity, Creativity and Responsiveness. The new Productivity Scenario has updated workloads and applications geared towards office centric user activities. The new Creativity Scenario which has updated workloads and applications geared toward media centric user activities and the new Responsiveness Scenario models "pain points" in the user experience when performing common activities.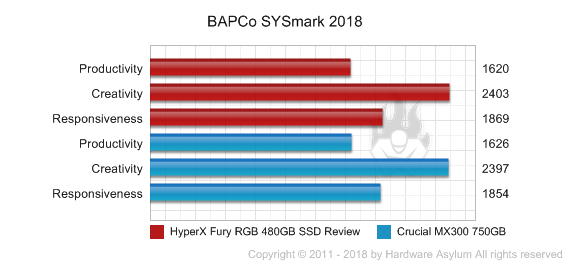 Benchmark Conclusion
As you can see from the scores the results the HyperX Fury drive is pretty darn fast until you get to the Crystal Tests. From there the tables turn and we find out why HyperX claims this drive is not designed for performance. However, when you consider overall performance the raw throughput of standard reads helps to make up the deficiency.
You can take a variety of things away from these results. First is that the HyperX is designed to be a show drive over a performance drive however looking at the results and the specs you can clearly see that may not always be the case. I have heard reports of some hardware sites putting this drive though a bombardment of datacenter tests and while that might be a great test of endurance nobody in their right mind would use this drive in that environment. Likewise you're not going to spend the bucks on a datacenter SSD if all you do is play Battlefield V all day long.
As a result it is important to strike a balance and while that balance was simple in the rotational days the SSD world is a little different.
The system used to test these drives is a standard LGA 2011 X-Series Kaby Lake processor which would represent a typical gaming rig.