HyperX Fury RGB 480GB SSD Review
Author:

Dennis Garcia
Published:
Thursday, November 15, 2018

RGB LEDs and Conclusion
To run the HyperX Fury RGB you have to options. The first is to simply plug the drive in and let it run. The default color is Red and will activate when you power on the drive without the 4-pin LED cable.
The RGB connector is using a standard USB connector that breaks into a standard 4-pin RGB LED connector. The cable acts as a pass through so it can be integrated into the center of an existing strip or added to the end allowing you to add more HyperX Fury drives after.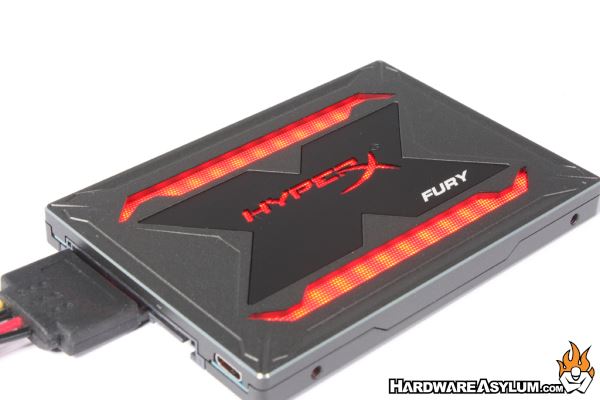 Since the RGB LED control is at the hardware level the lights will sync with any standard RGB controller however HyperX does list ASUS Aura, Gigabyte RGB Fusion, MSI Mystic Light Sync and ASRock as being supported out of the box and will likely give you the best color sync.
Conclusion
In this review we looked at the HyperX Fury RGB SSD. This drive is really quite impressive despite being designed for looks over performance. As many of you should know most every SATA based SSD tends to top out at the same speed making them all super fast and yet have their little quirks, like the NAND and controller selection, that impact performance.
The HyperX Fury RGB is using the latest LTC based 3D NAND which makes the drive more efficient and affordable. HyperX has also included the Marvell 88SS1074 controller to drive the 3D TLC NAND and is offering it in sizes ranging from 240GB up to 960GB with our review unit sitting in the middle.
My overall impressions are mixed. From the enthusiast side I really like the Fury RGB, it has decent out of box performance, excellent reads and respectable real world scores. However, HyperX claims it is not a performance drive. I suspect this is due to the addition of the RGB LEDs and maybe some reservations on entering the market. While their marketing message is very clear, RGB or nothing, I find myself considering other things about the drive like the hefty 165g drive weight, stunning multi level graphics and 550GB/s reads and how they are difficult to ignore. Of course bind two or more of these drives together and many of the deficiencies found in the benchmarks suddenly go away.
Overall it is a drive I want to be better that doesn't really need to be.
Be sure to check out HyperXgaming.com for more HyperX gear and stop by the amazon links below if you are looking to buy.

Good Things
TLC 3D NAND
SATA 6 Compliant
Capacity up to 960GB
Awesome Drive Graphics
RGB LEDs On-Board
Bad Things
It is a fast SSD with RGB what are you complaining about?
Oh ya, the LEDs make the drive get warm
Hardware Asylum Rating