EVGA GTX 780 Ti Classified K|ngp|n Edition Video Card Review
Author:

Dennis Garcia
Published:
Monday, January 27, 2014

Introduction
It used to be that when buying a video card you only needed to concern yourself with price and performance. The brand of card or GPU mfg were always a deciding factor but in the mainstream world you buy what you can afford or what you need and use it for as long as you can. These things are different for the hardware enthusiast and we have to consider the variables. "Does this product provide good cooling?" "Will it draw too much power for my PSU?" "Will it overclock?" "Will xyz waterblock fit?" "Does the color match the rest of my build?" and our favorite, "Is this product is the best? I always buy the best because only the best will do."
In this review we will be taking an in-depth look at the latest video card from EVGA the GTX 780 Ti Classified K|NGP|N Edition. On the surface this card may look like nothing more than a special edition of the GTX 780 Ti Classified with a higher clockspeed and special edition cooler. Looking under the hood we can see that this card is much more and, in a way, much less.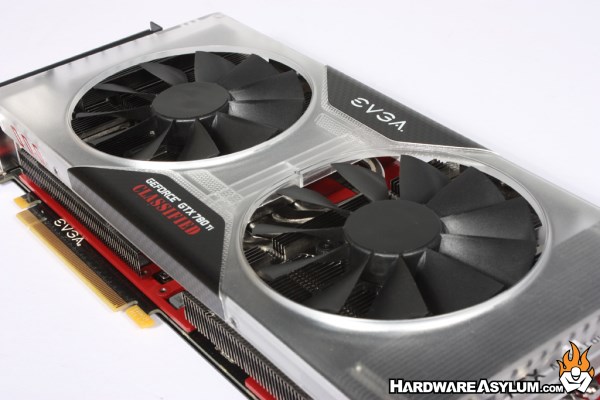 Engineered To Overclock
The ultimate GeForce GTX 780 Ti has arrived. Introducing the EVGA GeForce GTX 780 Ti Classified K|NGP|N Edition. This card is the final answer in the search for the greatest overclocking graphics card on the planet.
This card does not hold back, with up to 450W of dedicated GPU power, enhanced PLL circuitry, improved GPU power plane, 10CM fans, included backplate, preinstalled dedicated PWM baseplate, voltage regulation enhancements and more. As you can see, there is a reason why this card is named after the world's Top Overclocker.
Extreme overclockers Vince "K|NGP|N" Lucido and Illya "TiN" Tsemenko demand the best when it comes to performance and overclocking, so they set out to co-design this product along with EVGA, and geared it for the ultimate overclocker.
"In order to break world records these days you need some serious hardware," said Vince "K|NGP|N" Lucido. "This card was engineered to serve one purpose… be the world's best overclocking graphics card. Expect GPU clockspeeds at over 1.85GHz with extreme cooling."



"With the EVGA GeForce GTX 780 Ti Classified K|NGP|N Edition graphics card, we focused on the basic demands that are needed when doing extreme overclocking," said Illya "TiN" Tsemenko. "Capable hardware design and heavy power delivery capacity is key for performance dominance and the ultimate gaming experience. So too is a unique power convertor able to provide over 450W of clean voltage for every kind of overclocking!"
The above was sampled from the EVGA landing page and was the official story the left many hardware enthusiasts drooling for more. Of course we want more but the real question is. Does the above exemplify the KP Card (Kingpin Edition) or does it isolate casual overclockers while embracing those who are a little more extreme?
Lets look at the specs
Specifications
Processing Units
Graphics Processing Clusters 5
Streaming Multiprocessors 15
CUDA Cores 2880
Texture Units 240
ROP Units 48

Clock Speeds
Base Clock 1072 MHz
Boost Clock 1137 MHz
Memory Clock (Data rate) 7000 MHz
L2 Cache Size 1536K

Memory
Total Video Memory 3072MB GDDR5
Memory Interface 384-bit
Total Memory Bandwidth 336 GB/s
Texture Filtering Rate (Bilinear) 257.28 GigaTexels/sec
Memory Speed: 0.28 ns

Card specs are typical for a hot-clocked video card and not much different from the regular GTX 780 Ti Classified. In terms of physical changes we have a higher Base, Boost and Memory clock and a specific callout to 0.28ns memory. This will be important later on.