EVGA GTX 780 Ti Classified K|ngp|n Edition Video Card Review
Author:

Dennis Garcia
Published:
Monday, January 27, 2014

Conclusion
We have said this a few times now but overclocking is a big part of the enthusiast community so we tend to look for special products designed to help us reach our goals. The EVGA GTX 780 Ti Classified K|NGP|N Edition is clearly a video card designed for hardware enthusiasts looking to get the most from their system. That is provided you are using it correctly.
When comparing the various GTX 780 Ti Classified cards you may be wondering which one you should buy and what exactly the differences are. On the surface the regular Ti Classified and KP Card are virtually identical. They both use the same ACX cooling design. Both have 14-phase VRMs, dual BIOS chips and voltage test points. Both cards are designed for overclocking but happen to be tuned for different types of overclocking situations.
The regular Ti Classified card is configured more for the casual gamer and overclocker. You can see this in the way the card is put together including the one piece heatspreader and component choices to make it affordable (to a certain degree). The KP Card takes a slightly different approach such that it will appeal more to extreme overclockers but remains as a sellable product to the mainstream market. Some of the changes include a memory upgrade to 0.28ns memory chips, a split heatspreader and enhanced PLL circuitry optimized for extreme overclocking.
Our benchmarks show that the KP Card is clearly the fastest GTX 780 Ti you can buy and anyone buying this card because it is the best of the best or looking for a centerpiece in their build will not be disappointed. Someone looking to add this card to their system with the sole purpose of overclocking with air or water will also enjoy the same enhanced performance but may be disappointed in overall overclocking results. For instance we had issues getting the memory to overclock beyond 1800Mhz and while the core clock would scale up to 1372Mhz it was ultimately limited by temperature and had to be reduced to pass our benchmarking tests.
This of course leads us to the second part of this review, extreme overclocking. In our next article we will be putting the KP Card under LN2 and comparing the results against a regular Ti Classified to see exactly which card is best.
Good Things
Fasted GTX 780 Ti
Large 14-phase PWM
Great Looking ACX Cooler
Split Heatspreader
GPU Boost 2.0
Quiet Operation
Dual BIOS
Extensive Voltage Control
Community Support
Bad Things
Mixed messages when it comes to overclocking
Hardware Asylum Rating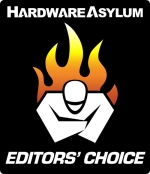 EVGA GTX 780 Ti Classified K|ngp|n Edition Video Card Review
Editors' Choice
https://www.hardwareasylum.com