News
Noctua introduces NA-IS1 inlet spacers for suction applications and NA-SAVG2 gasket set
There has always been a heated debate when it comes to "Push vs Pull" for fan orientation. Typically, we configure fans to "push" air though heatsinks, we push air into computer cases and video cards even push air across their cooling systems. Needless to say, "Push is Popular"
However, "Pull" or when you position fans to pull air through a heatsink you actually expose more surface area to be cooled since there is no longer a dead spot directly under the fan motor. You also don't need to deal with the cone of air exiting the fan and only cooling the edges of your heatsink.
The only major drawback to the "Pull" orientation is that the fan blades are closer to the heatsink and often cause annoying rhythmic noise that can be difficult to filter out. Fans in the "Push" configuration have a natural spacer which creates an air gap and thus reduces the adverse harmonics.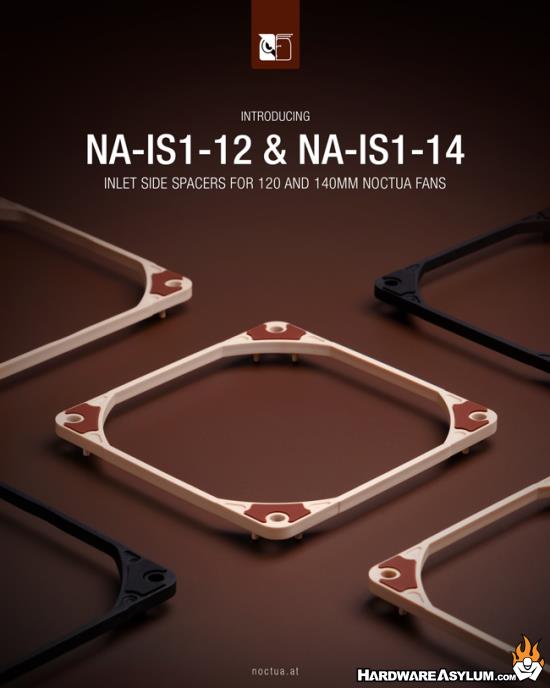 Noctual has introduced a new product to address this issue directly called the NA-IS1 Intake Spacer and NA-SAVG2 anti-vibration gaskets.
Noctua today introduced its new NA-IS1 intake side spacer frames for suction or "pull" type applications where fans draw air through obstacles such as grills, perforated plates, mesh panels, filters or radiators. By offsetting the fan from the obstacle, the NA-IS1 can significantly reduce influx turbulences and thereby help to improve both acoustics and performance. In addition, Noctua also introduced the NA-SAVG2 anti-vibration gasket set for using 140mm fans on water cooling radiators or other applications that benefit from a tighter seal with the fan.
Both of these products are great options to ensure that air intended to keep your system cool is directed exactly where it needs to go.
Related Web URL: https://noctua.at/en/noctua-introduces-na-is1-inle...